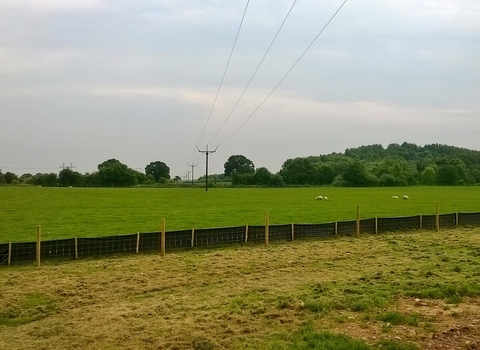 North Shropshire Improvement Project – connecting wildlife and enriching habitats with SPEN
The landscape between Oswestry and Wem will soon see a boost to biodiversity, thanks to habitat improvements, funded by Scottish Power Energy Networks (SPEN).
SPEN are bolstering the 20km power line between the two towns in North Shropshire, to improve electrical connectivity for residents and  businesses, and to prepare for increases in electric vehicle ownership. Linked to this, Shropshire Wildlife Trust will deliver a programme of environmental works to improve habitat connectivity through the landscape below.
This project will run over approximately two years, with a programme of habitat restoration and creation practical works to be agreed with stakeholders and undertaken. These may include:
tree planting
hedgerow restoration
meadow creation
pond restoration
river restoration
A number of key invertebrate and riparian mammal species have been selected as targets to benefit from the good quality niche and connected habitats that can be delivered, such as bees, water voles, water-beetles, and water shrews.
The proposed environmental improvements to hedgerows, woodland planting, ponds, canals and rivers will improve connectivity that has been lost over many years and will allow species to move more easily between locations, making them more resilient to adverse conditions. The rivers and water bodies in the area include the Montgomery Canal and the River Roden, River Perry and Sleap Brook
Surveying and monitoring will be conducted through the life of the project via project officers to guide future successful management, using project staff, experts amongst our network and volunteers, as needed.
See the SPEN webpage for further details about the power line improvement plan, linked to this project.  We will be working closely with stakeholders such as land managers, local communities, volunteers, specialists, contractors, the Canal and Rivers Trust, Natural England, the Environment Agency and Shropshire Council, and look forward to working alongside Scottish Power Energy Networks on this project.
If you own land in the area and wish to be involved, please get in touch via this email address: oswestrywem@shropshirewildlifetrust.org.uk
With thanks to SPEN for providing funding for and collaborating with us on this exciting project.
Follow the Rivers Team to keep up to date with the latest news