A fantastic group of volunteers have come together to revitalise Shropshire Wildlife Trust's gardens. This Heritage Lottery funded project will explore the garden's history and enable visitors to learn more about the wildlife, history and the buildings at The Cut Visitor Centre in Shrewsbury. 
After launching the project in January 2018, the team of volunteers immediately began planning for the seasons ahead. Over the last few months they have worked hard to create new planting schemes that show off the garden all year round. 
Funding has enabled the group to visit other gardens for inspiration, including Bodnant Gardens in North Wales and Jenny Steel's wildlife garden in South Shropshire.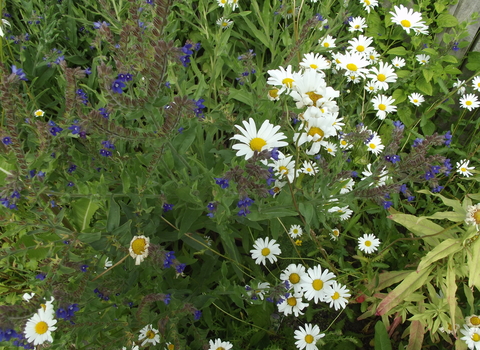 Our Garden Heritage
Surrounded by roads and car parks, Shropshire Wildlife Trust's headquarters appears from the outside about as peaceful and wildlife-friendly as a traffic island.  But step inside and you will discover an oasis of nature, lots of history and a rare sense of tranquillity.
The site originally belonged to Shrewsbury Abbey until it succumbed to Henry VIII's order for the dissolution of the monasteries in 1540. One of the three wings of the infirmary buildings still stands in the garden and old foundations can be seen.
In the 1860s, the land was bought up for the development of the Shrewsbury & North Wales Railway, replaced by sidings and platforms for a railway that opened in 1866 and went bankrupt by the end of the same year.
Between 1977 and 1994 Ellis Peters published a series of books based on Brother Cadfael, a detective monk from Shrewsbury Abbey. The site was developed into a visitor centre based on this character. The near-derelict site was restored; its grounds contaminated by decades of use as a British Rail engineering shed were made safe and a medieval herb garden was established.