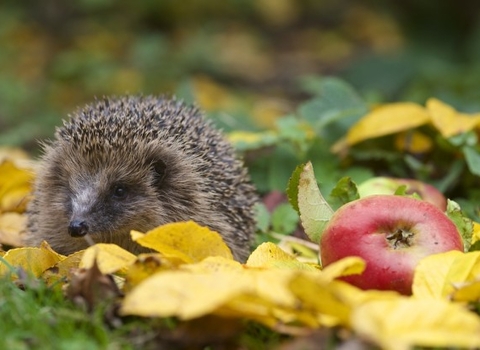 What could you see this month?
We love seeing your photos, please tag us on social media and connect with others!
If you have any photos you would be happy for us to share then feel free to email us: marketing@shropshirewildlifetrust.org.uk
Reserves to visit
We have over 40 Reserves across the county. here are our favourites to visit at this time of the year.
Autumn is a beautiful time to go out exploring. Woodlands turn all shades of gold, orange and bronze and the ground is covered with fallen leaves. Use our handy id chart to identify which tree the fallen leaves have come from.
Visit some of our woodland reserves including The Ercall, Clunton Coppice and Earls and Pontesford Hill. 
Click here to see all our Reserves
The following sites are also worth a visit:
Leaves are changing colour and migrant birds are arriving; all signalling autumn is here. Find out which wildlife to look for this month.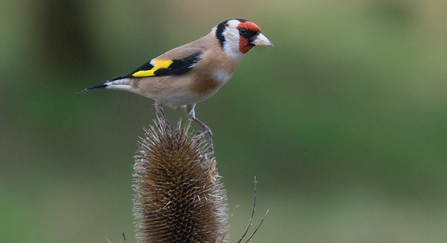 Goldfinch
During winter, goldfinch roam about in flocks of up to 100 birds, searching for food, including thistles and teasels. However, some of our UK birds will migrate as far south as Spain to avoid the worst of the harsh weather. Did you know, a flock of goldfinch is called a charm!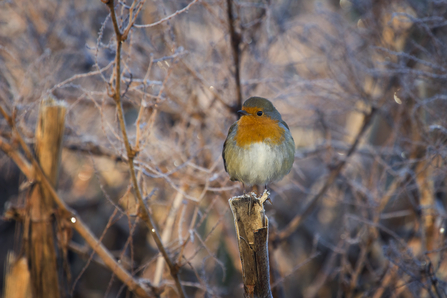 Robins
You might notice more robins around during the autumn and winter. Juvenile robins are starting to get their red breasts so they become more recognisable as robins, and other robins are arriving here from northern Europe.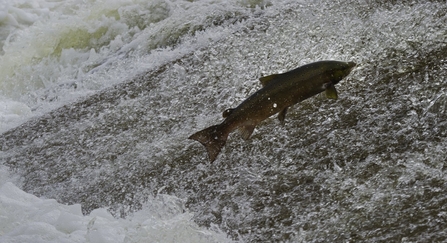 Leaping salmon
The Atlantic salmon spends most of its life at sea, but makes an epic journey back to the river or stream in which it hatched to spawn. During October they can be spotted jumping over weirs and waterfalls to get to the gravelly headwaters where they breed. The juveniles will stay in freshwater for up to six years, after which they migrate back to the sea - morphological changes allowing them to survive in salt water. Read more about them here.
Starling murmurations
Starling murmurations are magnificent to witness. 1000's of birds come together swirling in the skies before heading to their night time roost. These usually begin to form in November but can begin as early as September with flocks building as the weeks go on. They do this for many reasons including, safety in numbers - predators such as peregrine falcons find it harder to pick off an individual birds. It also allows them to stay warm and to exchange information. Last year there was an impressive starling murmuration at Whixall Moss above the Charles Sinker Fields.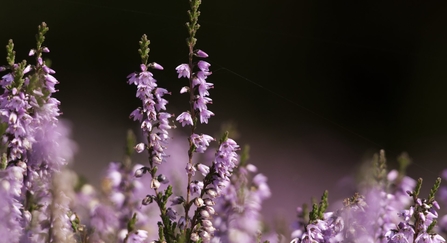 Heather
Heather is also known as 'Ling' and is an abundant plant on heathland, moorland, bogs and even in woodland with acidic or peat soils. Its delicate pink flowers appear from August to October and are a contrast to the tough, wiry, sprawling stems they grow upon.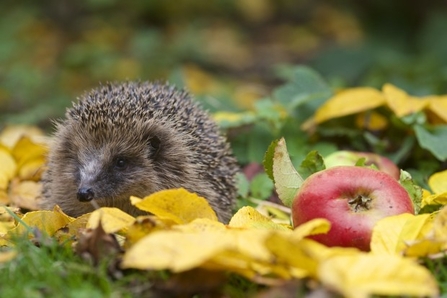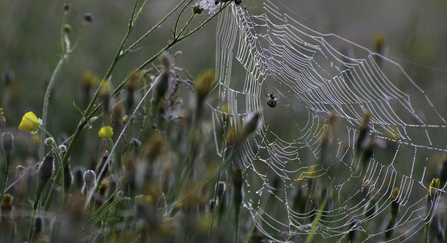 Spiders
Like them or loathe them, you can't deny that glistening spider webs aren't beautiful! Autumn is a good time to look for spiders in gardens, along hedgerows and in heathland. Look out for the huge variety of spiders and their webs, particularly on cooler mornings when their webs glisten with dew. Find out more about spiders.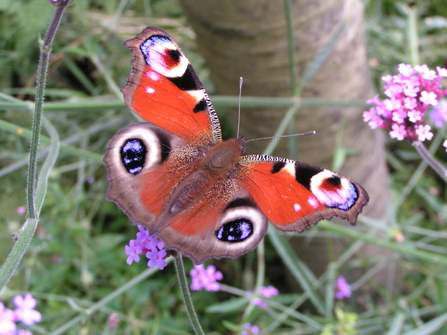 Butterflies
Most hibernate as caterpillars, but some butterflies overwinter as adults, including painted lady, red admiral, brimstone and peacock.
You may start to see them in your homes, settling in cool, sheltered corners to sleep until spring. However, when our heating comes on it may trigger butterflies to wake up, a problem in the middle of winter when there is no food. The easiest thing you can do, is to catch it gently in a cardboard box and move it to somewhere dry and cool, such as a shed.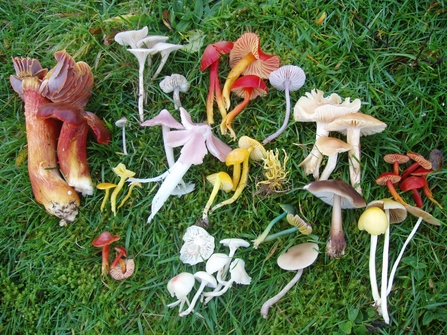 Fungi
Look for fungi growing in all sorts of different places from dead trees and fallen branches to the woodland floor and even grassland. Remember, some fungi can be deadly if eaten so it's best to leave them for others to admire too and for wildlife. Ask an expert if you are unsure, including us! You can email us: marketing@shropshirewildlifetrust.org.uk
How can you help wildlife in your garden?