We recommend using Google Chrome or Mozilla Firefox web browsers to make a donation. Issues have  been reported by people attempting to donate using Microsoft Edge browser.
The restoration of natural habitats on The Stiperstones is one of the Trust's most cherished projects.  Much has been achieved over the last 20 years and now we have an opportunity to ensure the protection of another delightful piece of land. 
Twelve acres of hillside above Tankerville, near Pennerley, have been put up for sale by a local landowner, who is very keen that they should be managed to conserve their character and wildlife. The ground lies within the National Nature Reserve, below the Devil's Chair, with views west over Hope Valley and north to Perkins Beach, a Stiperstones landmark. It is a place of great charm, with much to explore and wonder at – and it is an integral part of The Stiperstones landscape. 
Rowan and crab apple trees grow in the wilder margins of the fields and also a huge old willow – an excellent host tree for moth caterpillars, essential food for the cuckoos that still return to The Stiperstones each spring. 
Here and there are the ruins of tiny, old squatters' cottages and laburnum bushes grow nearby, relic garden plants from the smallholdings. Old mine shafts, now fenced off, reveal the workplace of the cottage inhabitants. Barytes, still widely used in industry, was mined from these hills in the 19th century. 
These little fields have great tranquillity – just the place to stop and listen to birdsong and enjoy glorious views.
We need to raise £50,000 to purchase this piece of land
There are currently no grant funding opportunities for land purchase so we are relying completely on the generosity of our members and other supporters. 
To donate, please fill in the secure online form below. Alternatively, you can send a cheque made payable to Shropshire Wildlife Trust, to 193 Abbey Foregate, Shrewsbury, SY2 6AH. Please reference the Stiperstones Appeal. 
Thank you.
Play your part: help us create more space for nature.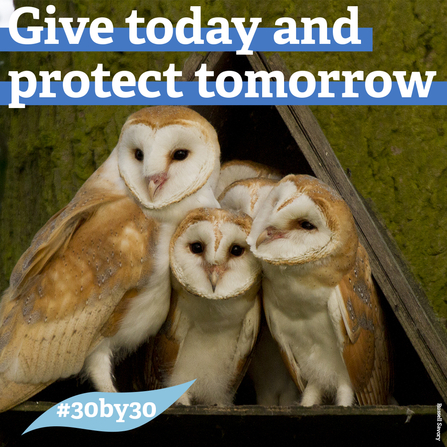 30by30
With only 10% of land protected and much of that in poor condition, nature has been in decline for a long time. That is why The Wildlife Trusts have launched its biggest ever campaign to kickstart nature's recovery. For nature to truly bounce back before it's too late, we need to see nature's recovery across at least 30% of land and sea by 2030. Wildlife Trusts across the UK will be fundraising to help tackle the climate and nature emergency, and make nature's recovery a reality.