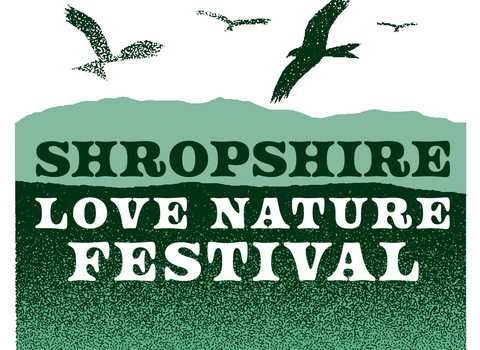 Shropshire Love Nature Festival
16th August to the 12th of September 2021
This year sees the launch of a new, month long festival for Shropshire! With a multitude of events running county wide, this festival will involve, inform and enthuse us all about the natural world and solutions to the current crisis it is facing. 
Events are being planned over 4 weeks by organisations, community groups and individuals across Shropshire, Telford & Wrekin, to celebrate Shropshire Nature. The Festival is coordinated by Shropshire Climate Action Partnership and Shropshire Wildlife Trust, with funding from Awards for All. 
With so many creative ideas and solutions being put forward, the festival will help spread ideas and inspiration for ways that we can all help support the ongoing health and resilience of our beautiful Shropshire environment – whether in roadside verges, newly seeded meadows, wildlife gardens, community woodlands or town parks and green spaces.
Do you want to organise an event?

We're extending an open invitation to anyone interested in joining in with their own Love Nature event.

The festival is based on small asks of many and varied organisations and groups to put on just one event, big or small, to celebrate nature and to highlight solutions to the crisis it is currently facing.

If you have an idea and want to make it happen, get in touch to find out how we can help support you in setting something up. It could be as big as a village fete or celebratory concert to as small as a community plant sale or the planting of a special group of trees in a community space.

Fill in our events registration form to receive a free support pack, including poster and flyer templates to print and to use online, along with tips on promoting your event.

Complete the online registration form here
Shropshire Climate Action Partnership

The Shropshire Love Nature Festival is organised by the Shropshire Climate Action Partnership, a not for profit organisation, formed in 2020. We are Shropshire residents, communities, organisations and businesses, sharing a vision for a sustainable county. Made up from over 100 volunteers, from all walks of life, we are working for a zero carbon Shropshire and the large-scale restoration of our natural environment by 2030.
Some events and activities will be listed on our website below and our whats on pages, but for a full list you can download the Festival brochure here.
We are facing a global extinction crisis which has implications for every one of us. It's tempting to assume that the loss of wildlife and wild places is a problem that's happening on the other side of the world. The truth is that the UK is one of the most nature-depleted countries on the planet and the situation is getting worse.
Sir David Attenborough 2021