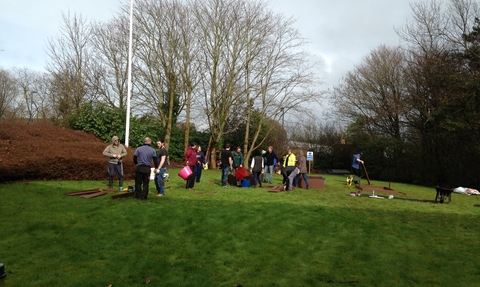 Telford Work Well with Nature
Let Telford's great outdoor spaces help:
Improve employee health & wellbeing
Support local communities
Protect local green spaces and watercourses
Enhance wildlife biodiversity
Tackle the climate emergency
Work Well with Nature is delivered by Shropshire Wildlife Trust (now incorporated into our Wild Work Days).
It offers line managers, HR managers, OH/H&S managers and employers, programmes to help proactively improve the health and wellbeing of their employees, reduce absence, and support return to work plans achieved through practical nature-based outdoor activities.
Work Well with Nature assists employees living and working in the Telford and Wrekin area for a group of your employees to experience an outdoor activity such as:
Tree planting
Wildlife habitat works and/or surveys
Path / access construction
Clearing scrub
Hedge-laying and other traditional woodland management
Improving staff health and wellbeing through practical conservation can also help boost their energy and productivity, so why not take the opportunity to protect Telford's community green spaces, wildlife habitats and its miles of waterways, whilst providing multiple benefits to your local communities.
No practical experience is required prior to attending.
For more information on half day/full day activities please contact Craig Baker:
craigb@shropshirewildlifetrust.org.uk
07949 823 973