If your business is working to improve water quality or reduce its consumption of water, you can earn recognition for your efforts by applying for the Marches Blue Business Award. We have had winners from a wide range of sectors, including farming, breweries and water companies. Previous winners are shown below to provide an idea of the things you can do to improve and reduce water use.
How to apply
Please enter your details via the online form here:  https://wildlifetrusts.wufoo.com/forms/z19pxhae0bon4gh/ 
***Closing date extended! Now: 5pm on Friday 6th December 2019***
What is it? 
The Marches Blue Business Award celebrates those leading the way in protecting local water resources. It focuses on innovative projects being implemented by businesses across the Marches and beyond which aim to improve water quality output and cut the use of water within their own organisation.
Why do we need it?
Water is one of our most vital resources. Businesses use it daily, but failure to protect the water environment can result in legal and financial implications and affect the health of our water systems. Recent reports show that 75% of rivers across the UK failed to achieve good ecological status.. The Marches Blue Business Award (developed by the Environment Agency and Shropshire Wildlife Trust) encourages businesses to think about how they can both protect and conserve our local water environment, and share best practice principles across the region. We believe that, together, we can make real differences to improving our water resources. 
How will your business benefit?
Improving and protecting water resources could bring significant benefits to those who are committed to reducing or eliminating water pollution, including:
Reduced wastewater and energy bills
Reduced energy usage
Reduced carbon emissions
Reduced surface water charges
Reduce enforcement and recharge costs following avoidable pollution incidents
Compliance with EU Water Framework Directive and Water Act 2014
Demonstration of commitment to Corporate Social Responsibility
Meeting customer expectations
Award categories:
Quality – improving and protecting the quality of water on-site and in the wider environment
Show how your initiative demonstrates either on-site or local water quality environmental improvements. Projects may be related to the treatment or care of process water or be targeted at surface water flows. Point or diffuse source pollution intervention projects are welcome, for example: pond and swale systems or green roof schemes on new builds.
Reduction – reducing the volume of water consumed through reuse and recycling and more efficient water use.
Tell us how your project saved water and money, and if your project engaged employees in the water efficiency initiative, and/or how your project made use of proven water efficiency technologies (including, e.g., fixtures and fittings or rainwater/grey water systems). Measurable improvements to water use would be welcome as part of the project application. Enhanced maintenance schemes, community projects and technical innovation are all part of the challenge of water use reduction. 
Examples of projects include:
Water use monitoring and audits
Rainwater harvesting
No-flush toilets
Green roof installation
Enhanced building design
Water saving fixtures and fittings
Rain gardens and de-paving projects
Who can apply?
Any business that can demonstrate innovation or best practice, no matter the size of the business or the scale of the project, is eligible to apply for the award. The Marches Blue Business Award works in partnership with the local networks so there is no requirement for you to be an existing member of Herefordshire Business Futures Forum, BESST (Business Environment Support for Telford) or MMBEN (Meres & Mosses Business Environmental Network) to be considered for an award, although new applicants are always welcome.
Winners will be announced at the MMBEN Summit on 29th January 2020: http://www.meresandmossesben.co.uk/page/7/upcoming-events.htm
How do I apply?
Please enter your details via the online form here: https://wildlifetrusts.wufoo.com/forms/z19pxhae0bon4gh/     
We look forward to hearing from you!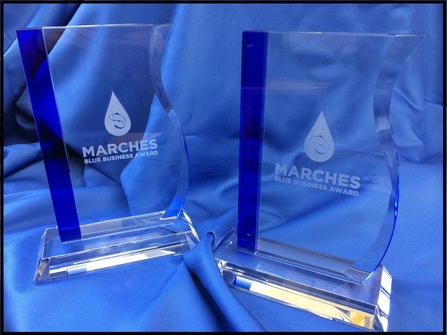 2018 Winners

Water quality: Roy Marsh of Crosemere Farm, Cockshutt
Swale Project: An arable field at Crosemere Farm was reverted to permanent grassland to reduce run-off. The existing topography was enhanced to create a swale to treat diffuse pollution. Finally, a temporary wetland area was created to intercept run-off, encourage sediment settling and attract nesting lapwing. A Liverpool University PhD student is monitoring the effects of the project.
Water efficiency: Wye Valley Brewery
Brewhouse design and effluent treatment improvements, including: new efficient cleaning operations; automation and rinse recovery ensure the brewery water to beer ratio is consistently below average; new technology ensuring steam is no longer produced as a waste product; and an upgraded effluent plant and diverted rainwater to help improve water quality though cleaner and reduced effluent discharge.
 
Highly Commended
Ray Williams, Ditton Farm: Minimising run-off
Meticulous planning and timing of fertiliser application from the chicken unit and Anaerobic Digestion plant combined with efficient use of technology and cropping records ensures applications only when and where required, reducing run-off and improving the water quality reaching water courses.
Agilent Technologies: Air-cooled reactor system
New air-cooled condenser technology uses air instead of water meaning water is no longer required in coolers in 90% of cases. This new technology has saved enough money in terms of water reduction to recoup costs in under three months.
Shropshire Home: Redwing Fields water management systems
The creation of swales which weave through surrounding green space will gather, slow and filter storm waters and home run-off before they enter the watercourse. Combined with specially-designed kerbless roads allow water to discharge directly into swales.
Previous Winners:
2017
Severn Trent Water
Shrewsbury and Telford Hospital
2016
Forge Property Consultants
Frog Environmental