New road will have huge environmental impact
Shropshire County Council have proposed to create the North West Relief Road to link Churncote roundabout to Battlefield roundabout which is set to cut through 75m of a SSSI and 25m of an ancient woodland as well as impacting multiple priority species in Shropshire.
For years Shropshire Wildlife Trust and other community groups have fought the road.  It will:
Adversely impact habitats and species all along the route
Pass within 500m of Hencott Pool SSSI, 4 Local Wildlife Sites including Shelton Rough already threatened with development
Add to growing atmospheric pollution and CO2 emissions
Destroy the quality and tranquillity of the landscape, particularly in the Severn floodplain
Enclose the town in a ring of steel decreasing access for pedestrians and cyclists
Impacts of the new road
The aim of the new road is to reduce the journey time of drivers, as well as reducing congestion within Shrewsbury. This relief road is meant to reduce carbon emissions and improve the air quality.  However, the construction of this road will have an impact on Shrewsbury's wildlife, habitats and landscapes.
The planning officer for the Shropshire Wildlife Trust has started to compile a database of all the species of plants, animals and birds within 500m of the proposed route and identifying key sites that may be affected by the road construction. Our planning officer has stated that within 500m of the proposed site over 860 animal species and 100 bird species have been recorded, this includes:
Hedgehogs
Great crested newts
Water voles
White-letter hairstreak
Common pipistrelle
Toads
Cuckoos
Barn owls
Kingfishers
Hen harrier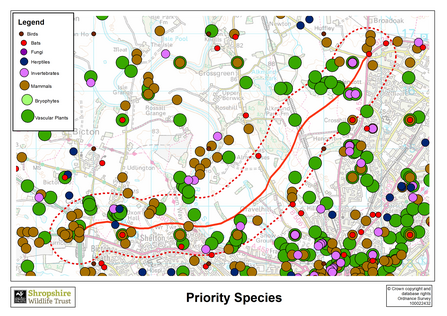 Many habitats within 500m of the proposed route will also be effected such as:
Four local wildlife sites including: Oxon Pool, Shelton Rough, River Severn and Old River Bed Shrewsbury
Alkmond Park Coppice an ancient woodland
Hencott pool which is a SSSI and a RAMSAR site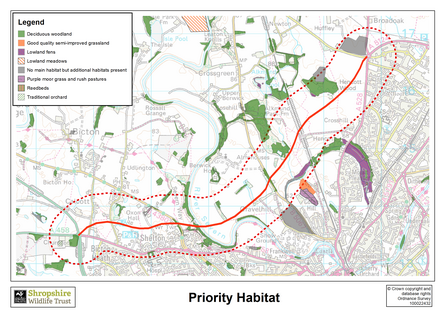 Using government figures and independent reports, there is likely to be an increase in traffic and emissions as a result of this relief road and therefore, an increase in the climate threat to biodiversity. The construction and later use of this road would have a negative impact on the local wildlife as well as there being a lack of mitigation in place for species and habitats affected by the development. As stated by Shropshire's Local Transport Plan, 30% of Shropshire's total carbon emissions come from transport.
We need to say NO to politicians stuck with the outdated belief that building more roads is the answer to all problems.
What can you do?
If you would like to communicate your views on this proposal you should contact Shropshire Council's leader Cllr Peter Nutting Peter.Nutting@Shropshire.gov.uk and Shrewsbury & Atcham MP Daniel Kawczynski daniel.kawczynski.mp@parliament.uk