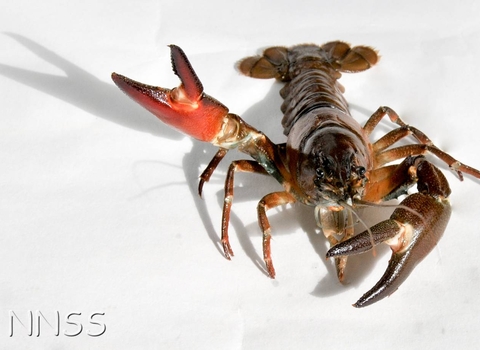 Help us look out for Invasive Non-Native Species!
Invasive Non-Native Species (INNS) can be found in many habitats across the UK, and numbers are on the increase.
These are species (animals and plants) that spread quickly, becoming dominant within a habitat they would not naturally be found.
They can cause damage to other species, the environment, the economy, and us. 
What are the impacts of Invasive Non-Native Species?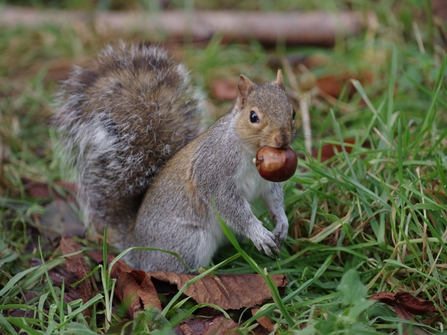 Environmental
Disrupting habitats and ecosystems, preying on or outcompeting native species, spreading disease, and interfering with the genetic integrity of native species. The ecological impact of some INNS, such as the American mink, signal crayfish and grey squirrel are well known, but many other impacts are less visible.
Economic
The cost of INNS in GB is at least £1.7 billion per year. Much of this cost is borne by the agriculture and horticulture sector, but many other sectors, including transport, construction, aquaculture, recreation and utilities, are also affected. Japanese knotweed alone is estimated to cost the British economy around £166 million per year.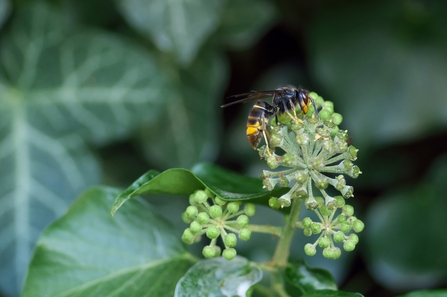 Social 
Some species cause problems to human health or are a nuisance to landowners. Invasive plants clog water bodies preventing access for navigation and angling. Some significant threats to human health are posed by species not yet in GB but that could establish in the future. For example, the Asian hornet which has killed at least seven people in France since its introduction, and ragweed which has substantially increased hay fever suffering across many European countries. 
Identifying Invasive Non-Native Species

See the GB Non-Native Species Secretariat website for a wealth of information, including identification sheets here.

Check out the Scottish Invasive Species Initiative 'Alien Detectives' here, for a fun way to learn, especially designed for young people/primary school education.

Here are a few examples of Invasive Non-Native Species

New Zealand Pygmyweed

(c) GB Non Native Invasive Species Secretariat
Together, we can help protect ourselves, Shropshire's wildlife, landscapes and environments.
Keep an eye out for non-native invasive species, and don't release, move or dump unwanted non-natives or exotic pets in the wild:
It is illegal
They can affect your health, spread disease and cause allergies
They threaten your sport/hobby etc.
They can threaten our native plants, animals and habitats
They can cost you a lot of money if you are liable for their removal
Check out this short video from the Environment Agency: https://www.youtube.com/watch?v=QxJ19xp-dq8
Are you controlling invasive non-native species in Shropshire / Telford & Wrekin? 
Get in touch to help us build a network and a map of action across the county, and we can help you with resources, advertising volunteer days, sharing best practice and updates. See the Contact Us page here: https://www.shropshirewildlifetrust.org.uk/contact-us
Information for landowners/land managers

Generally, it is not illegal to have non-native invasive species on your land/in your garden/allotment, but reasonable steps must be taken to prevent them spreading elsewhere. Find out more about legislation here: https://www.gov.uk/guidance/invasive-non-native-alien-plant-species-rules-in-england-and-wales

Working in partnership with neighbouring landowners is critical to prevent re-colonisation when tackling many of these species, and working from the top of a river catchment downstream is vital for several water-related species, like Himalayan balsam and Giant Hogweed.

Seasonal timing for control efforts is also key. Identification sheets and management guides for a few common species are listed below. Anyone looking to attempt INNS management is likely to require Environment Agency and/or Natural England permission in advance.

If your land includes a protected site, e.g. SSSI, Nature Reserve, you can contact Natural England via email for any request for assent, consent or enquiries regarding protected sites which would include herbicide type requests and other forms of invasive species control.

Further species with management guidance are listed here

Government guidance for how to help stop the spread of invasive plants can be found here
Do you want to get involved in recording non-native invasive species?

Join in with our Wildlife Water Watch, and record any invasive non-native species you see along with other wildlife while you're out and about: https://www.shropshirewildlifetrust.org.uk/wildlife-water-watch

There are various ways of tackling these species, and you may be able to get involved with a volunteer group near you. Various Wildlife Groups are taking action on invasives: find one near you here.

A list of national non-native invasive species recording schemes is available here and if you want to conduct your own survey, check out INNS Mapper.

An excellent way to learn more is to undertake the free e-learning modules on the GB Non-Native Species Secretariat website here and the Biosecurity online training from the University of Leeds.

Keep up with the latest species alerts here.
Taking action

Check Clean Dry

Do you visit rivers, lakes, ponds, canals etc.? Every time you get out of the water, or you take your boat, paddleboard, fishing gear or other equipment out, use Check, Clean, Dry to help stop the spread of non-native invasive species.

If you have a dog who loves water, giving them a clean/making sure they're dry before heading to the next watercourse for a walk and play will help, too.

Are you a gardener or allotment-holder? Check out Plant Alert app and help horizon-scan for the next non-native invasive species by reporting those over-zealous plants in your garden.

And if you have a pond, this short video with Charlie Dimmock can help you identify some key invasive non-native species: https://www.youtube.com/watch?v=lBEfF8B7p7Q 

2020 Invasive Non-Native Species - WANTED Vespa velutina Asian hornet poster by GB NNSS
Catch up with the latest news from the GB Non-Native Species Secretariat, including Invasive Species Week 2021
What are we doing?
Shropshire Wildlife Trust have recently been awarded a Water Environment Grant by Natural England.
This project aims to bring together a Local Action Group for Shropshire, for all non-native invasive species - the steering group includes representatives from local farming groups, the NFU, Environment Agency, Shropshire Council, Telford & Wrekin Council, Severn Rivers Trust, Natural England and more. The GB Invasive Non-Native Species strategy and Midlands Regional Invasive Species Management Plan will help guide this work.
In addition, we will be controlling Himalayan balsam in a few key areas (sites to be confirmed) using novel bio-control methods which involves the use of a rust fungus. Watch a You tube video here, and see our feature in the Shropshire Botanical Society Autumn 2020 newsletter here (page 14).
If you are part of a local group that tackle invasive non-native species, and would like help with advertising your sessions to bolster volunteer help in 2021, do get in touch. See the Contact Us page here: https://www.shropshirewildlifetrust.org.uk/contact-us
With thanks to The European Agricultural Fund for Rural Development for providing the funding to make this project possible, via the Water Environment Grant administered by Natural England.
Also with thanks to funding and support from Severn Trent via their Great Big Nature Boost fund, enabling us to extend the SINNSI project to include the Morda, Oswestry.