Species Sponsorship packs
Help us protect UK wildlife by sponsoring wildlife
Money raised from our sponsorship schemes goes towards helping important local wildlife conservation work in Shropshire, such as managing nature reserves or creating new habitats. They also make the perfect gift for a nature lover!
There are 6 species you can choose from:
Hedgehog
Bilberry Bumblebee
Ancient Stiperstones Holly
Pine Marten
Barn Owl
Dormouse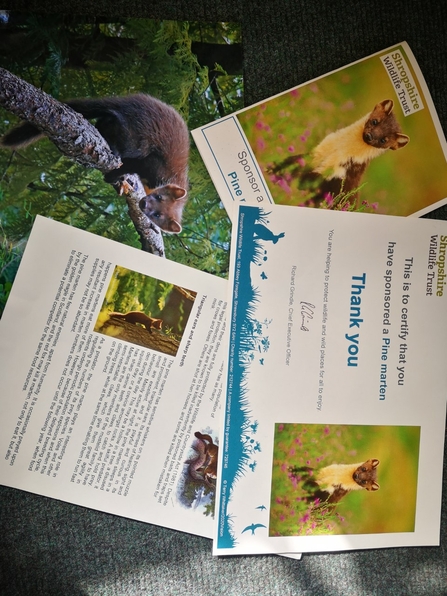 Costing £20, your gift package will include a certificate, a double-sided illustrated A4 fact sheet, a large photograph of your selected species and a gift card with your personalised message.
There is space on the order form for you provide the name and address of the recipient, as well as a message. Or you can sponsor a species for yourself!
The next step
To purchase a pack, please complete the form below. Once you press continue you will be taken to a follow up page securely hosted by Paypal to enter your card details.
The following UK issued cards are accepted online - Mastercard, Maestro, Solo, Visa and Visa Electron. If you prefer to send us a cheque, please print off and complete the form below.
For further information call us on 01743 284280 or email: garyds@shropshirewildlifetrust.org.uk.
Read more about the species you can sponsor
Pine marten

Pine marten (Martes martes) (c) Terry Whittaker/2020VISION

Pine martens are an attractive, tree dwelling member of the badger and weasel family of mammals. They were considered to be extinct in much of England for over a century, until 2015, when pine martens were discovered living in a wood in south Shropshire. The Shropshire pine martens have survived because there is still plenty of suitable woodland to offer cover and food in the area we have found them in, but they will only continue to survive here if that habitat is cared for and preserved. It is our aim to study the population here, whilst working with owners of woodland to ensure that they manage their land with pine martens in mind.
Hedgehog

Jon Hawkins - Jon Hawkins - Surrey Hills Photography

Small, round, brown and covered in spines, the hedgehog is one of the most familiar of Britain's wild mammals. Hedgehogs are in trouble though, with fewer than a million left in the UK, down from an estimated 2 million in the mid-1990's and 36 million in the 1950's.

Across the UK, Wildlife Trusts are working hard to raise awareness and restore habitats to benefit species like the hedgehog including the restoration of old hedgerows and planting of new ones.
Ancient Stiperstones Holly

The oldest surviving holly grove in Europe is on the Stiperstones. Cracked, gnarled and windswept, two hundred or so ancient holly trees grow here. Some are thought to be three or four centuries old, amazingly long-lived for holly. Each of these trees has developed highly individual characteristics over their long lives.

The trees are still vibrant and beautiful, though some are showing their age and suffering from past pressures of livestock grazing. Through careful management of livestock and selective fencing we are giving them the best chance to recover and thrive.
Dormouse

With their big black eyes, furry tails and golden brown fur, dormice are gorgeous creatures – but you are very unlikely ever to see one. They sleep for around seven months of the year, emerging at night during spring and summer to forage for food high in the trees. Dormice are much rarer than they used to be, mainly because of habitat loss.

We manage several of our woodland nature reserves for dormice, ensuring that hazel is left to grow tall and blackberries and hedgerow fruits are encouraged. Where possible, we plant hedgerows to connect known dormice sites  to prevent colonies becoming isolated and fragmented. 
Bilberry Bumblebee

As an upland species, the bilberry bumblebee has its main strongholds on moorlands in the North of the country, however we are fortunate to have them in Shropshire too, on The Stiperstones and Long Mynd. The bilberry bumblebee is now in decline due to habitat degradation, the loss of bilberries and other heathland vegetation – without which this bumblebee cannot live. 

Recent heathland restoration on The Stiperstones will have improved their chances. Shropshire Wildlife Trust will continue to play a dynamic role in renewing and protecting the county's uplands,
Barn Owl

Barn Owl (Tyto alba) landing on post UK - Russell Savory

Barn owl numbers plummeted across the UK in the last 70 years of the 20th century. In Shropshire their population halved. Owls need a good supply of voles to hunt and voles need rough grassland, a kind of habitat which has disappeared from much of our tidy, intensively managed landscape. Nesting places have also grown hard to find.

Through the barn owl adoption scheme, we install barn owl nest boxes on suitable nature reserves and give these charismatic birds a chance to breed. Several of our nature reserves have good grassland with plentiful voles, ideal for barn owls. 
Other ways to support your local Wildlife Trust