Really Wild Birthday Parties!
Go wild this year, party with us!
Are you looking for somewhere different for a child's birthday party? Our nature themed parties are packed full of fun activities and wild games!
Our parties are designed to give your child a birthday they will never forget - whilst keeping your day stress free. All equipment and materials for the parties are provided, so you just have to sit back and relax!
Our parties are recommended for children up to 12 years old.
Location
The Cut, 193 Abbey Foregate, Shrewsbury, SY2 6AH
Our fantastically wild parties in Shrewsbury are held within our safe visitor centre gardens so are suitable for all ages.
What do our parties include?
2 hours hire of our wild child garden
Times to choose from are: 10:30am -12:30pm or 2pm-4pm. This includes 1hr 30mins of outside activities, led by our party leader, plus 30 mins for picnics.
You also have the use of our garden room for storing food and cake for picnics in the garden.
All equipment and materials for the activities as well as a leader, so you can just sit back and relax.
Party invitations for each child invited (with guidance for parents about what children should wear!)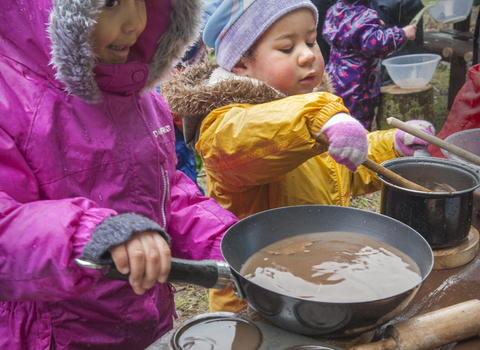 You can choose from two different party themes, a Wild Child Party or a Hoglets Party!
Wild Child Party
Minibeast Hunt: Search for invertebrates, who can find the most and can you name them?
Nature Games:  Explore our wonderful outdoor space with nature themed games that will get you energised and laughing!
Mud Play: Enjoy our marvellous mud kitchen where you can compete to make the tallest mud towers, mud cakes and more!
Hoglets Party
Hoglet Masks: Make a hedgehog mask and become a hoglet for the party!
Hedgehog food game – Hoglets explore our wonderful outdoor space! Who can find all the tasty treats and avoid what makes Hoglets poorly?!
Mud Play: Enjoy our marvellous mud kitchen and make mud hedgehogs, hedgehog footprints and more!
Plus
Optional Fire Lighting (suitable for ages 5+) can be added on to either of these party's: Learn to light your own small fire to toast some marshmallows! This activity has an additional cost of £1 per child and a maximum of 15 children.
Costs and Booking Information
Your party is £100 (for up to 10 children) plus £6.50 per additional child with a limit of 25 children (or 15 for a party with fire lighting).
To make an enquiry about booking a birthday party, please contact us on 
If you have any further questions please do not hesitate to contact us on 01743 284 280 or email lizzies@shropshirewildlifetrust.org.uk
FAQ's
What happens if there is bad weather?

We believe in partying outside whatever the weather, so please come dressed appropriately. However, if conditions are extreme, we have covered areas in the garden.
Is there an indoor room I can book?

Your booking includes hire of our garden room to safely secure any items inside. It also contains a small fridge for any party food.

We have a larger room available to hire for £20 an hour if you would prefer a larger indoor room for your party or would like to extend your party for longer indoors.
Do you supply party food?

We don't supply party food, cutlery or plates however we do have a fridge that you can use to store your food and lots of outdoor furniture for picnics. For indoor party food we would recommend booking our larger room, the Darwin Suite. This has an additional cost of £20 per hour.

We have facilities to recycle clean cans, plastic bottles, card and paper. As a result we have a very small general refuse bin and are unable to accept a large amount of general waste. We request politely that you take any general rubbish away with you
What is the adult to child ratio for supervision?

Shropshire Wildlife Trust provides a fully trained party host to deliver your party activities but does not supply child supervision. It is the sole responsibility of the party hirer/s to provide adult supervision for the party and assume full responsibility for the safety and behaviour of all their guests and any damages to the property.

· Children aged 3-5 yrs must have 1 adult for every 3 children attending.

· Children aged 5-8 yrs must have 1 adult for every 6 children attending.

· Children aged 8-12yrs must have 1 adult for every 8 children attending.

For Health and Safety reasons if these supervision levels are not adhered to the party may be cancelled.
How do I reserve a date?

Please contact us by calling 01743 284 280 or email lizzies@shropshirewildlifetrust.org.uk.

We will be able to discuss a day and time with you but this won't confirm the booking. If we do not have availability on your preferred date then we will do our best to offer suitable alternatives.

To confirm the booking we will ask you to fill in a booking request form (by email) to collect details about the number of children, which party theme you would like, contact details and a few other pieces of information. You will also need to sign our Terms and Conditions.

If we have availability on your chosen date we will send you details of how to pay the £50 non-refundable deposit. We will then hold the date for 5 days to give you a chance to confirm the booking. If we don't hear from you within this time we may offer the date to another family.