Your local wildlife needs you!
Whether you fancy organising a bake sale, taking on a walking trail or tough mudder run, or even doing a litter pick, you can help raise essential funds and make a real difference for wildlife.
Whatever your talents, you can use your skills and do something you enjoy to help raise vital funds.
Go wild, raise money, and help the wildlife you love.
The Wildlife Trusts have produced a handy downloadable guide to get you started with fundraising for wildlife. It is full of ideas and advice for organising a successful event or activity.
Fundraising FAQ's

Can I raise money for you through Just Giving?

Yes, absolutely! Once you have logged in / created your own account, select 'start fundraising' and you will be asked which charity you are raising funds for. Search for Shropshire Wildlife Trust. You can then fill in the rest of the event/activity details and share your fundraiser with friends and family. Once your fundraiser has been created, we will be automatically notified, plus we will be sent the funds straight through Just Giving so you won't need to do anything more.

There are alternative fundraising sites you can use, including Virgin Money Giving and Go Fund Me.

How can I send you money that I raise?

Sending us the money you raised couldn't be easier.
Simply visit our online donation page to transfer the money you collected using PayPal or a debit/credit card. If you would prefer to transfer straight to our account, please contact us:  marketing@shropshirewildlifetrust.org.uk to request our bank details. 
You can also send us a cheque in the post, please include a covering note to explain who you are and how we can get in touch with you! Our address is: Shropshire Wildlife Trust, 193 Abbey Foregate, Shrewsbury, SY2 6AH. 

Can I use your logo to promote my fundraiser?

We are usually happy to let you use our logo with permission, so please get in touch if you would like to by emailing: marketing@shropshirewildlifetrust.org.uk.

Can you help me with promotion?

We are often able to share details of fundraising events on social media, so please do let us know what you have planned! Remember to tag us in all your posts on social media. If there are any particular materials you are after to help advertise your event, again, please get in touch with us and we can do what we can to help.

How will the money I raise be used?

All the money you raise will go towards our vital work throughout Shropshire, enabling our conservation, preservation, and education work to continue. The funds you raise will be 'unrestricted' which means that you are not restricting what project your donations are spent on, so the money you raise can be put towards important projects that we really need it for.
Be inspired!
Here are some of our supporters who are currently fundraising for us or have completed their fundraising activity. 
London Marathon October 3rd 2021
Our Grants and Corporates Manager Craig Baker, is taking on the incredible challenge of the London Marathon, raising funds for 4 charities, including Shropshire Wildlife Trust. 
To read more about Craig's training journey ahead of the October 3rd marathon, visit his blog.
For Craig's Shropshire Wildlife Trust sponsorship page, click here. Details about Craig's other 3 chosen charities and their donation pages can be found via Craig's blog above.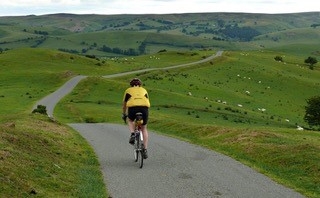 Danny Mason Highlands Challenge Sunday June 13th 2021
Thank you to everyone who took part in this event, raising over £3,000 for Shropshire Wildlife Trust!
Next year the challenge will take place on 12 June 2022 and will again raise funds for us.
This is an iconic bike ride founded 30 years ago by Danny Mason, whose name the event now carries. These days Ludlow Cycling Club organises the ride, and its famously friendly cake stops. It is not a race: you ride at your own pace with whoever you wish to.
The event is a stunning all-Shropshire 68 mile route from Ludlow. With about 1,500 metres (5,000) feet of climbing and some challenging lanes in the remotest and wildest corners of Shropshire, to complete it you'll need some strength, stamina, bike handling ability and not to be carrying too many excess kilograms!
After costs, all event proceeds go to Shropshire Wildlife Trust, who do so much to look after the beauty and wildlife of the terrain the route goes through. 
30 Days Wild!
30 Days Wild is an annual challenge organised by The Wildlife Trusts, to encourage everyone to carry out a random act of wildness every day thoughout June. In June 2021, 760,000 people across the UK took part!
A huge thank you to Jack (18months) and Myla (6) for fundraising for us throughout the challenge, raising £800. We loved seeing and reading about all the activities you got up to help and learn about wildlife.
Other ways you can support us