I have always cared about the environment and dedicated the last 2 decades to managing land for wildlife, it is important to me that in the future Shropshire Wildlife Trust will ensure my land is protected and my vision is sustained.
Your gift makes a big difference
Wildlife in Shropshire is declining at an alarming rate. Leaving a gift in your will to Shropshire Wildlife Trust is a great way to make a lasting contribution to local places and wildlife.
Anyone can leave a gift to Shropshire Wildlife Trust when making a will. No matter how small it will help us safeguard habitats and ensure our vision for a landscape rich in wildlife.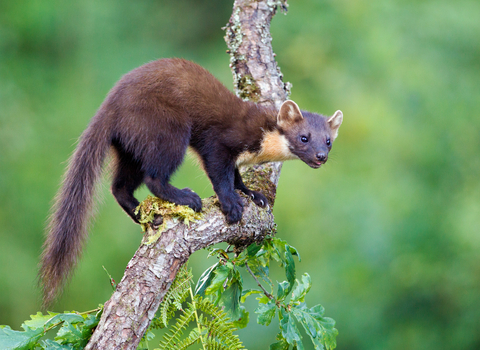 Recent legacies
The Shropshire pine marten
Recent gifts in wills have enabled us develop the staff time and equipment required to monitor the first population of pine martens discovered in Shropshire for 100 years.  Without these gifts, it is likely that we would not have been successful in identifying 11 individual animals since 2015 at a number of linked sites including proof of breeding.
This funding has also allowed us to expand our working with local landowners and communities to secure high quality habitats for this population to live and breed in.
If you would like to find out more about our pine marten work, click here.
How will your gift help wildlife in Shropshire?
Legacies are so valuable to our work for local wildlife. Your gift will support our efforts to:
Buy the most important pieces of land in Shropshire to keep them safe for future generations
Continue our work with landowners, developers, businesses and farmers to make space for nature and clean up our rivers
Ensure there are opportunities for people of all ages to learn about and cherish wild places
Fight alongside communities to safeguard their green space for exercise, health and well-being
Other ways to support your local Wildlife Trust
There are lots of ways to help the local wildlife and wild places you love.