All of this will be lost forever
The planning application for the NW road is still viewable online and the plan has 604 documents included. Our reasons for objecting to the plans are covered on this webpage.
You can access the application on the Shropshire Council planning portal here, using reference number 21/00924/EIA
 
Shropshire Council's proposed North West Relief Road to link Churncote roundabout to Battlefield roundabout is an unwise way to spend county funds, while having a terrible impact on the local landscape. The route is set to pass within 40m of Alkmond Park Coppice (Ancient Woodland) and 80m of Hencott Pool (SSSI and RAMSAR site).
For years Shropshire Wildlife Trust and other community groups have fought the road, because it will:
Adversely impact habitats and species all along the route
Pass within 80m of Hencott Pool SSSI, 4 Local Wildlife Sites including Shelton Rough: already threatened with development
Add to growing atmospheric pollution and CO2 emissions
Destroy the quality and tranquillity of the landscape, particularly in the Severn floodplain
Enclose the town in a ring of steel decreasing access for pedestrians and cyclists.
Increase pollution:
Under the EU Water Framework Directive (which sets standards for water quality and ecological function in the river systems in the UK and across Europe) the River Severn is listed as Moderate status. Primary reason for its failure to achieve good is the presence of the following two pollutants as per the tables here: https://environment.data.gov.uk/catchment-planning/WaterBody/GB109054049142
Flouranthene – a carcinogenic chemical which is produced as a by-product of the incomplete or poor combustion of petroleum
Benzo-pyrene – a carcinogenic chemical which is produced as a by product of the combustion of diesel.
Both these chemicals enter our rivers system either through atmospheric deposition or by diffuse run-off from highways. It does not take much pondering to connect these two unresolved, significant polluting substances and the increased risk of pollutant entering the river by the construction of a major highway crossing.
Why take action?
If you live anywhere in Shropshire this could affect you as the project will use money from the entire Shropshire infrastructure budget which was already stretched before Covid. 
The market towns are less than happy that if the road goes ahead, Shrewsbury will get tens of millions of £'s at the expense of the rest of the county.
You can also write to your local MP and councillors today to tell them to put a stop to this disastrous project.
Better Shrewsbury Transport (BeST) have produced a FAQ leaflet which outlines more info about the road, you can download it here:
Impacts of the new road
The aim of the new road is to reduce the journey time of drivers, as well as reducing congestion within Shrewsbury. This relief road is meant to reduce carbon emissions and improve the air quality.  However, the construction of this road will have an impact on Shrewsbury's wildlife, habitats and landscapes.
The planning officer for Shropshire Wildlife Trust has started to compile a database of all the species of plants, animals and birds within 500m of the proposed route and identifying key sites that may be affected by the road construction.
Our planning officer has stated that within 500m of the proposed site over 860 animal species and 100 bird species have been recorded, this includes:
Hedgehogs
Great crested newts
Water voles
White-letter hairstreak
Common pipistrelle
Toads
Cuckoos
Barn owls
Kingfishers
Hen harrier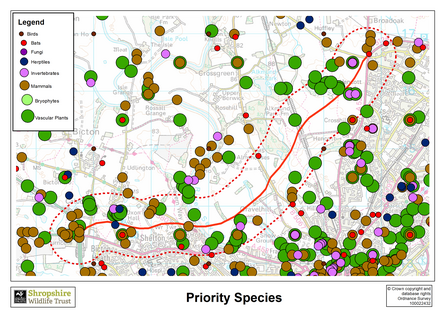 Many habitats within 500m of the proposed route will also be affected including:
Shelton Rough Local Wildlife Site (LWS) – although associated development proposal actually impinge on the LWS
The River Severn (LWS)
Old River Bed Shrewsbury (LWS)
Oxon Pool (LWS)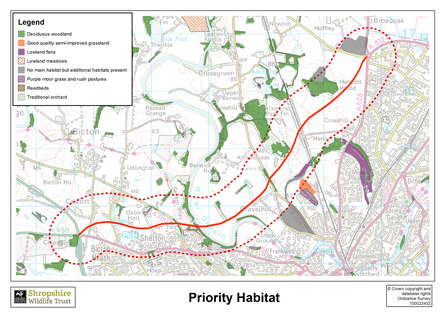 Using government figures and independent reports, there is likely to be an increase in traffic and emissions as a result of this relief road and therefore, an increase in the climate threat to biodiversity.
The construction and later use of this road would have a negative impact on the local wildlife as well as there being a lack of mitigation in place for species and habitats affected by the development. As stated by Shropshire's Local Transport Plan, 30% of Shropshire's total carbon emissions come from transport.
We need to say NO to politicians stuck with the outdated belief that building more roads is the answer to all problems.