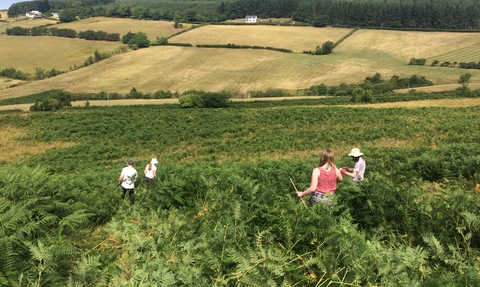 Volunteering for nature
We depend on the support of our volunteers to protect Shropshire's landscape.
Thank you for enquiring about volunteering with us. We are currently in the process of dealing with a back log of enquiries and staff are only just starting to get back to working in the office so please bear with us. We want our volunteers to have a positive experience with us but we need to manage this carefully so that all volunteers are properly welcomed and inducted. In order for this to happen, we are managing recruitment steadily and only taking on a few volunteers each month to fill existing vacancies. Please check back in with us as we will be updating this page regularly as staff settle back into normal working routines and we can give all volunteers the support they deserve. 
To help you decide if volunteering with us is for you, the roles we normally advertise are:  
Visitor services for our Visitor Centre at The Cut, Shrewsbury 

Weekday work parties on Wednesdays and Thursdays across Shropshire and Fridays in Telford 

Outdoor learning with our Education Team 

Feed the Birds befriending scheme across Shropshire 
In the meantime, do find out about your local Branch by following the link here or the section below and contact them to find out what is going on in your area. We have 10 Branches across Shropshire, and they offer a range of activities such as walks and surveys. Volunteering with your local Branch is probably the single most effective way you can help us in our work.
There are also a number of Affiliated groups across Shropshire; follow this link here to find out more. 
Existing volunteers: your role manager will continue to coordinate with you.
Existing practical conservation (work party) volunteers working on SWT reserves: The Reserves Team staff will continue to email you with the work party programme. Please let them know which dates you wish to attend. 
Thank you for your amazing support for Shropshire Wildlife Trust.
You may also be interested in: