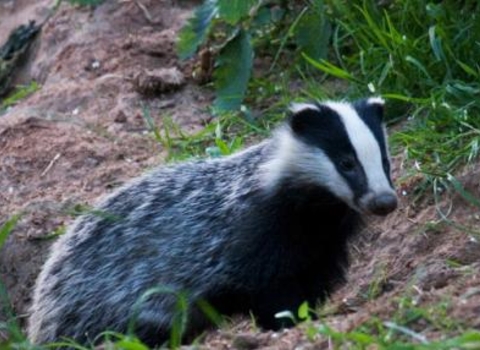 Badgers and TB
Shropshire Wildlife Trust is firmly opposed to the badger cull and is deeply disappointed at the Governments' decision to issue licenses to extend the cull.
Badgers are a valued species in the UK, protected by law. 25% of the European population is found in the UK, so we have an international responsibility to conserve them.
Bovine Tuberculosis is a serious infection of domesticated animals (cattle in particular) and wild animals. Incidence of the disease in parts of Great Britain has increased substantially over the last 20 years. It costs the UK millions of pounds every year and Shropshire Wildlife Trust recognises the hardship that it causes in the farming community.
But a cull is not the answer and we are calling on the Government to put biosecurity and vaccination at the centre of efforts to tackle this disease rather than killing wild badgers.
The scientific evidence demonstrates that culling is likely to be ineffective in fighting the disease and, worse still, risks making the problem even worse. We believe the emphasis should be to find a long-term solution and we are calling for the Government to end its policy of culling badgers. 
More information
This is a cattle problem, not a badger problem

The control of Bovine TB in cattle should be the main focus of everyone's efforts to control this problem. The evidence shows that badgers are not the cause of the spread of TB in cattle: the primary route of infection is via cow-to-cow contact.
The cull is scientifically unsound

The Minister of State for Agriculture, Fisheries & Food announced in December 2018 that the badger cull has been "effective" in terms of the numbers of badgers culled over the specified area of land. However, we are still waiting for the promised peer-reviewed analysis of the bovine tuberculosis (bTB) incidence data in cattle. Robust evidence is still lacking to demonstrate that the badger cull is worth the loss of thousands of badgers and millions of pounds of public spending. 
What is Shropshire Wildlife Trust doing?

Shropshire Wildlife Trust has been working on the issue of bTB and its links to badgers for several years. During this time we have:

First organisation in Shropshire to vaccinate badgers. There is now a 3 year badger vaccination programme on our land being condcuted by a dedicated team from Shropshire Badger Group.
Ran a 4 year vaccination programme on one of our nature reserves as a trial to determine the costs and practicality of vaccination
Supplied data annually to a national database held by Animal and Plant Health Agency (APHA)
Raised awareness of the programme through numerous press opportunities, information on our website, talks and hosting Government vets on site during fieldwork
Supported other organisations to start their own vaccination programmes
Ran 2 forums bringing together stakeholders from both farming communities and conservation organisations as well as scientific experts to share the latest research (attended by approx. 120 people)
Seconded a member of staff to The Wildlife Trusts to lead a project aimed at increasing the uptake of vaccination. This was funded by Defra and developed proposals for overcoming barriers to BadgerBCG vaccination deployment as well as looking at a strategic and co-ordinated approach for deployment
Attended national networking events and conferences to proactively share the findings of the Enabling Badger Vaccine Deployment Project
Attended workshops in Westminster to shape the Government's Badger Vaccination fund
Provided information as requested during Government consultations
Lobbying the Government, along with other Wildlife Trusts, to halt its badger culling policy.
How you can help
1. Contact your MP
Contact your local MP, urging them to put pressure on the Government to drop the cull. 
2. Contact your MEP
Email your MEP to press for the EU ban on a cattle vaccine to be lifted.
3. Help us achieve more for badgers
Badgers belong in our hedgerows and woods. Help us achieve more for badgers by becoming a member of Shropshire Wildlife Trust.
4. Visit the Shropshire Badger Group website for more information about badgers in Shropshire