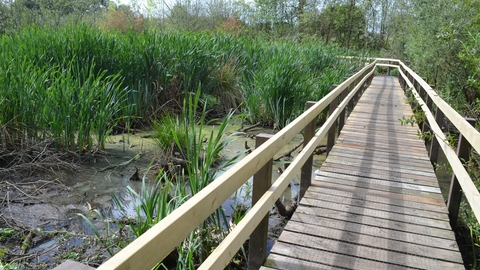 A delightful patch of wet woodland with a pond, right in the centre of Ellesmere.
Location
Know before you go
Entry fee
No
Parking information
There is limited parking on the side of the road opposite the gate onto the recreation ground. Otherwise park in the public car park in Ellesmere.
Grazing animals
None
Access
From the centre of Ellesmere take the road signposted for the marina (Birch Road). Along this road is the open recreation ground on the right, before the cricket ground. Go through the kissing gate onto the recreation ground and head straight across to Birch Road Pond.
Accessibility: Amber
The main entrance is via a kissing gate, however the alternative route is steep and uneven, which wheelchair users may find difficult. This reserve can become muddy. There is a boardwalk around the reserve, but there is some difference in levels, including to the viewing platform. There are also steps up to the bridges at the side of the pond. 
When to visit
Opening times
Open at all times
Best time to visit
April to July
About the reserve
Once an area used as a rubbish dump, this pond and surrounding woodland have now been transformed into an area local people can enjoy. In summer the vegetation grows into a fantastic jungle; an ideal place for birds and other wildlife. Willows here attract a lot of insects, such as the caterpillars of over 90 moth species.
Next to the recreation ground on Birch Road, this is one of those edge of town wild areas that could so easily have been lost to development or tidied into the bland uniformity of a municipal park. Fortunately Ellesmere people saw its value and this delightful patch of wet woodland and the pond at its centre have survived to provide frogs, newts and dragonflies with somewhere to live.
In summer the vegetation grows into a fantastic jungle; an ideal place for birds and other wildlife. Herons and house martins feed from and over the pool and common newts breed here. The open water attracts dragonflies and damselflies. Great spotted woodpeckers, bullfinches, goldfinches, nuthatch and willow warbler are among some of the bird species seen here.  
Directions: From Ellesmere town centre follow signs to Ellesmere College. This leads you to Birch Road. The recreation ground is on your right and the pond is at the lower end.  
Habitat
Contact us
Shropshire Wildlife Trust