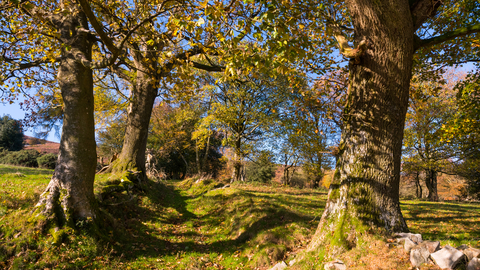 An extraordinarily atmospheric place, with a wonderful feeling of antiquity
Location
When to visit
Opening times
Open at all times
Best time to visit
All year round
About the reserve
Brook Vessons adjoins the Hollies. Here you find yourself among towering hedgerows, gnarled old trees, a tangled woodland, tiny meadows and boggy, tussocky grazing pastures. Dormice are known to breed here.
Perhaps the strangest thing about Brook Vessons is its cluster of giant trees. Within just 100 metres are some of the broadest rowans in Britain; the biggest birch in Shropshire; the biggest holly in Shropshire and the county's biggest crab apple tree.
It lies on the edge of The Paddock – a village that grew up with the local mining industry as people took on smallholdings to supplement their income. It was finally abandoned early in the 20th century, when the industry declined, but the remnants of field and cottage walls remain.
Brook Vessons is most easily found by walking to the top of The Hollies, keeping to the brow of the hill. A little to your east go over a stile and you will be in Brook Vessons.  
Contact us
Shropshire Wildlife Trust