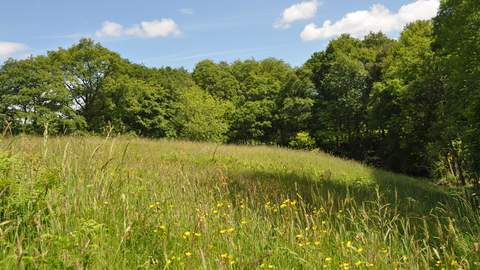 A flower-rich meadow in the Wyre Forest, jointly owned by Shropshire and Worcestershire Wildlife Trusts.
Know before you go
Entry fee
None
Parking information
Limited parking immediately opposite the forest track leading to the meadow
When to visit
Opening times
Open all year
Best time to visit
June to July
About the reserve
This wonderful old meadow is in the Wyre Forest, a woodland glade encircled by trees. It is herb-rich pasture with more than 80 plant species recorded in a single survey, including marsh orchids, devil's bit scabious, carnation sedge and bird's foot trefoil.
The field slopes gently down to a stream on its boundary and in the marshy areas sneezewort and water mint grow. The Wyre Forest is a National Nature Reserve, so insects, birds and mammals are plentiful.
Getting to Button Oak Meadow
The meadow is located on the edge of the Wyre Forest at Button Oak on the B4194. There is very limited parking immediately opposite the forest track leading to the meadow, in a small lay by on the lane to Pound Green. An alternative would be to park with the permission of the landlord at the public house, or by walking along the forest tracks from either the Earnwood or Hawkbatch Forestry Commission car parks – walking along the main road is not recommended!
Contact us
Worcestershire Wildlife Trust
Become a member and support our work
The vital work we do for nature depends on the support of people who care about the future of Shropshire's wildlife and wild places.