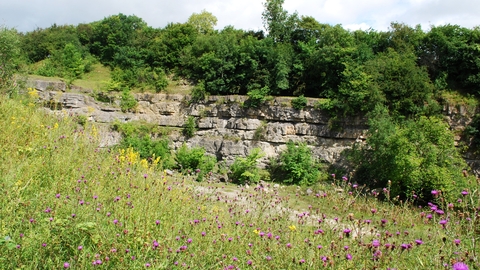 An abandoned limestone quarry with wonderful wildflowers
Location
Know before you go
Entry fee
No
Parking information
Layby on A495 c500m from Llynclys Crossroads
Grazing animals
None.
Access
From the layby, cross the road (with care) and head down the track opposite. Cross the disused railway line to enter the wood.
Please note: There are very narrow paths that cross the top of the quarry, with steep unfenced sides that drop to the quarry floor, Please keep a close eye on children and keep dogs on a lead. Not for the faint hearted!
Accessibility: Red/Amber
Steep paths that are often muddy through the woodland entrance. Very steep bank with narrow trail to reach the quarry floor. 
Dogs
Dogs permitted
Please note that there are sheer drops at this site, down the sides of the rocky quarry face, so please be aware and keep dogs on a lead when not in the wood or on the quarry floor.
When to visit
Opening times
Open at all times
Best time to visit
April to August
About the reserve
One of a string of abandoned limestone quarries in the area, Dolgoch on a sunny summer's day is a delight. A profusion of wild flowers grow on the limestone quarry floor, including yellow-wort, with its waxy, grey leaves, the upper ones cupped around the stem and star-like yellow flowers that shut in the afternoon. On the rock faces, look out for viper's bugloss, with its bristly spikes of cobalt blue flowers.
There are two ponds here, providing homes for frogs, toads, newts, damselflies and dragonflies. The rocks are interesting too; within the limestone strata you may see fossils of sea creatures such as corals and shellfish that lived when this landmass that was to become England lay in a shallow sub-tropical sea. Look out for the oyster-like fossil shells of Gigantoproductus giganteus, 150mm across and, as its names suggests, the giant of its day.  
How to get here
Park in the lay-by just west of Llynclys crossroads on the A495; cross over and follow the path between the houses. Carry on through a muddy area into woodland. Continue uphill past a waymark post and take the 2nd fork to the left, going up steeply. When you come into an opening look out for a path to your right. Carry on between boulders placed to prevent motorcycles. The path is often wet and muddy.  
Become a member and support our work
The vital work we do for nature depends on the support of people who care about the future of Shropshire's wildlife and wild places.