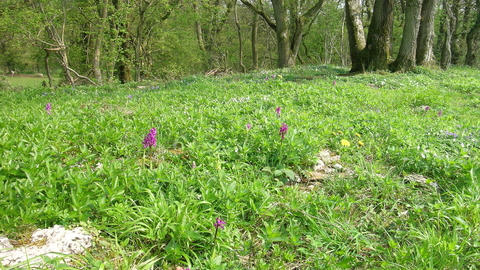 A pretty wood situated on an ancient barrier reef.
Location
Know before you go
Entry fee
No
Parking information
The car park is located along the lane from Westhope to Harton.
Grazing animals
None
Access
Accessibility: Red
An open site with no obstructions. Trails are not surfaced and can become muddy and slippery due to the underlying geology. This is part of Wenlock Edge and so is a steep-sided, wooded slope.
When to visit
Opening times
Open at all times
Best time to visit
April to July, September to November
About the reserve
Walk in the woods along Wenlock Edge and you tread on an ancient barrier reef. Plants such as herb paris, sanicle and sweet woodruff grow here because they thrive on the limestone that formed from the fossilised remains of those ancient shelled creatures, making this one of the richest stands of woodland in the county.
Multitudes of corals and other shelled beings lived here 400 million years ago, in a warm clear sea, when this bit of land destined to become Shropshire lay in the southern tropics. As part of the Marches Way, footpaths twist and turn through the wind-blown woodlands along the top of the Edge, much of which is owned by the National Trust.
Getting to Harton Hollow
Harton Hollow is a small section of the woods north of Westhope and south of Harton on the brow of the ridge. From the car park a footpath takes you between gnarled, mossy trees and into the nature reserve, on to a lane and back up into the woods again.  
Become a member and support our work
The vital work we do for nature depends on the support of people who care about the future of Shropshire's wildlife and wild places.