Introducing our new Chief Executive Officer, Richard Grindle
A huge welcome to our new Chief Executive Officer, Richard Grindle, who joined us at the start of November. Read more about him in his own words below.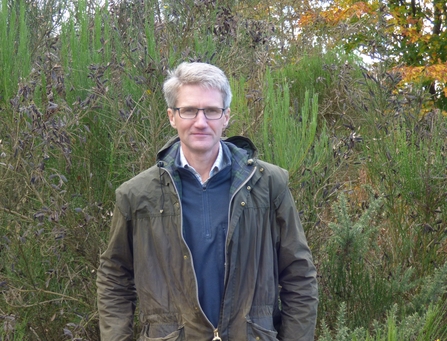 I've now been at the Trust for three weeks – following six years with London Wildlife Trust, and before that various overseas NGOs. I'm not a local, though my wife grew up here.
First impressions: that Shropshire is a beautiful county;  that everyone is incredibly friendly; and the Trust is doing some excellent work in a rapidly changing environment.  Unfortunately I seem to have brought a second wave of Covid with me. But the Trust's work is going on almost uninterrupted; and as before it is striking to see how many people are turning to nature to help them through the lockdown. 
 
We are becoming familiar with the concept of a 'triple emergency': climate crisis, ecological crisis, and people's disconnection from nature.  The Wildlife Trusts have set a target of 30% of land managed for nature by 2030.  So what does that mean in practice?  
SWT will be scaling up our work with farmers and land managers to help them to promote nature's recovery. We will be expanding our work on nature-based solutions to reduce flooding, and to help bring Shropshire to 'zero carbon'. We have started work on mapping a Nature Recovery Network for Shropshire to connect all these projects, and to measure our progress towards the 30/30 target. We will continue to help people of all ages from every community in Shropshire and Telford & Wrekin to engage with nature, through our nature reserves, natural childhood and youth programmes, through our branches, and – increasingly - online.
 
I look forward to getting to know the county, its people and its nature much better over the coming months; and to a more positive 2021 after the challenges of 2020.