The Secret Garden
Together, our gardens are a vast living landscape. With an estimated 24 million gardens in the UK, the way they are cared for can make a big difference to the natural world. Large or small, ledge or yard, your garden can be a mosaic in a wider network of natural havens linking urban green spaces with nature reserves and the countryside.
We've been inspired by the new movie adaptation of The Secret Garden and just like us, the filmmakers are passionate about butterflies! From the producers of Paddington, Harry Potter and Fantastic Beasts, this new movie is a visionary look at one of the world's most enduring children's stories and will be in cinemas this Easter. In the story, the garden eases grief, heals rifts and brings the joy out in all who experience it.
Now you can make a special place for wildlife – with a Secret Garden of your own, where you can replenish your soul, reconnect with nature and help wildlife to thrive. Find out more about the film at www.thesecretgardenfilm.co.uk and watch the trailer here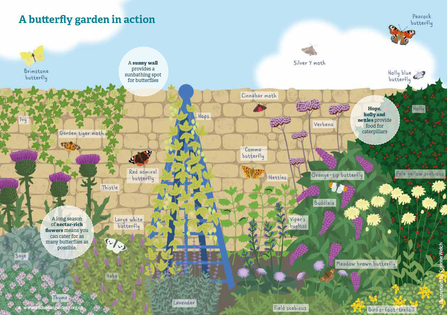 Hedgehogs, bats, sparrows, song thrushes and stag beetles are all declining species in the UK, but if we manage our gardens to benefit wildlife, these creatures and many more will find refuge.  It's not hard to be help.  Consider a whole host of wild ideas and features – or just pick one and then sit back, enjoy the view and see who visits! 
Why have a plain, ugly fence when a green, living boundary can bring the riches of flowers, scent, berries, rich autumn colours and wildlife?  Ever thought about which heavenly-scented plants provide night-time nectar for moths? 
Or digging a pond? If you introduce a water feature, not for fish but for newts, dragonflies, pond skaters, you'll also be providing water for birds. Plant up the edges with the golden blooms of marsh marigolds and the lush spikes of purple loosestrife and you'll have nectar stations for insects and beauty to dwell on.
The UK has lost ponds, rivers and streams at a rapid rate and only a small amount of our natural ponds and wetlands remain. Many of these are in poor condition and 13% of freshwater and wetland species are threatened with extinction from Great Britain.  The loss of these important places – to development, drainage and intensive farming – is linked to a huge decline in wildlife, including frogs and toads, water voles and insects.
Adding a pond – by digging one in your back garden or simply by filling a waterproof container outside your front door – is one of the best ways you can help wildlife and enjoy the benefits of seeing water plants, birds and bees close to home. Digging a pond is great for hedgehogs to have somewhere to drink and for frogs, newts and other amphibians to feed and breed. All ponds – large, small, dug or container – are good news for bats, damselflies, dragonflies, other insects too.
Take action for wildlife
Here are some simple ideas to help ensure your garden is wildlife friendly.
More ways to help wildlife in your garden
Find more ways to take action for the wildlife in your garden by clicking on our guides below.
Wildlife-friendly gardening is about making a haven for you, as well as for wildlife. By gardening sympathetically for wildlife, you'll be rewarded by a truly natural outdoor space, where you can get in touch with the plants, animals and birds that make their home there.
A useful guide to creating and maintaining a garden pond of all sizes! They can be a haven for many different species of wildlife. 
These wriggly fellows are well known to gardeners all over. At first glance they might not seem particularly special, but they're essential for our soils and wildlife. 
Bats are stars of the night, seen swooping through the night sky in the pursuit of their prey. Little understood, just what is the truth about these enigmatic mammals?
Small, round, brown and famously covered in spines, the hedgehog is one of the most familiar of Britain's wild mammals.
It's no secret that many pollinators are facing threats. Insensitive land use, a reduction in plant species diversity and the use of insecticides have all been linked to declining bee numbers. This is bad news for us and for them. But you can help...