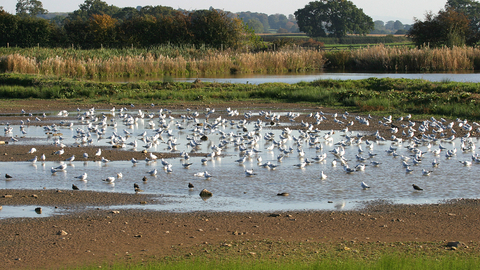 *Wood Lane nature reserve is currently closed to the public until further notice*
A working quarry site owned by Tudor Griffiths, with managed pools which have become a haven for birds.
Location
Know before you go
Entry fee
No
Parking information
Tudor Griffiths car park for fishing and the nature reserve is on the right on the road between the crossroads with the A528 (Ellesmere-Shrewsbury) and Colemere.
Grazing animals
None
Access
Accessibility: Green
Entrances are all open or gates. Bird hides are fully accessible, but require entrance code. Generally hard flat surfaces with the odd muddy spot.
This is part of a working quarry, so vehicles will occasionally cross tracks.
When to visit
Opening times
Open at all times
Best time to visit
All year round
About the reserve
One of the best bird-watching sites in Shropshire, Wood Lane Nature Reserve has been developed in recent years on worked-out industrial land, Tudor Griffiths Group's old sand and gravel workings near Ellesmere. Several large lagoons with islands and surrounding wetland make up the reserve, which is surrounded here by a working landscape with mountainous heaps of sand providing a backdrop – and also the perfect nesting opportunity for hundreds of pairs of sand martins- 500 pairs have been known!
More than 180 species of birds have been recorded at Wood Lane since the nature reserve was established in 1999. Pumps control the water levels, so that optimum amounts of mud and water are available for wading birds such as greenshank and curlew; islands have been created for safe roosting; hundreds of trees have been planted and scores of nest boxes installed. Birds such as godwit and whimbrel, drop in to feed up on their migration journeys in spring and autumn.
The reserve is a rare and much valued haven for breeding lapwing, tree sparrow and yellow hammer, while little ringed plover is another speciality. There are around 40 breeding bird species on the reserve.
There are two large hides facing the lagoons and school groups regularly visit.
Getting to Wood Lane
From the A528, just south of Ellesmere, take the Colemere road at the Spunhill crossroads. The car park is ¾ mile down on the right.  
A permit is required to access the hides- please apply using the form below.
Apply for a permit to access Wood Lane bird hides
Become a member and support our work
The vital work we do for nature depends on the support of people who care about the future of Shropshire's wildlife and wild places.