During the current crisis, we anticipate that we will lose over £100,000 in funding in this financial year. We need the support of members and followers more than ever before to guarantee that we can continue to help nature recover and thrive in Shropshire. We all depend on nature; bees and insects pollinate our food plants, green spaces give us somewhere to rest and improve our wellbeing and outdoor areas allow us to exercise and stay healthy.
That is why our work is so essential, but we need your help to achieve it. Everyone is likely to be affected financially this year, but if enough of us work together to raise funds, we can all still make a positive impact.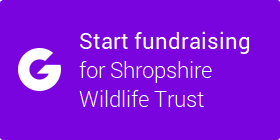 Fundraising ideas
Put the "fun" into fundraising and make a difference!
Count as many birds as you can in one hour in your garden or local green space

Photograph 20 insects in one day

Make a 1 minute film about wildlife and get 100 people to share it!
You can also make a donation online here