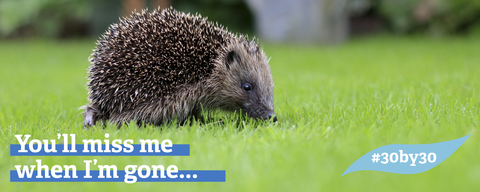 The recent announcement by the Prime Minister to protect 30 per cent of the UK's land for biodiversity by 2030 is very welcome – it's a good start. But the Government seems to think there is more land currently protected for nature than is actually the case.
National Parks and Areas of Outstanding Natural Beauty Areas (AONBs) are recognitions of landscape value and do not confer protection on wildlife. Many of these areas are actually severely depleted of wildlife because of overgrazing, poor management or intensive agricultural practices. Meanwhile, around half the Sites of Special Scientific Interest - which really are designated to protect biodiversity - are in a poor state and suffering wildlife declines.
What needs to happen
Craig Bennett, CEO of The Wildlife Trusts is urging the Government to deliver real change in order to save and protect our wildlife: "We need to see a much greater level of action on the ground to deliver on the ambition set out by the Prime Minister, and to put nature into recovery. This means rescuing the wildlife sites currently in decline, while also making more space for nature through a new wildlife designation called Wild Belt, specifically aimed at putting nature in recovery – protecting and connecting nature right across the country." 
We've set ourselves an ambitious goal – to raise £30 million and kickstart the process of securing at least 30% of land and sea in nature's recovery by 2030.

CEO of The Wildlife Trusts
Making more space for nature to become abundant once again will give our struggling wildlife the chance to recover and also restore beautiful wild places - places that store carbon and help to tackle the climate crisis.
30% is the bare minimum that nature needs to start recovering but we are far short of this and need your help to turn things around...
We can do this together
By joining our mission for nature's recovery, you will make a real difference to wildlife and our natural world. Every pound donated will help us achieve our vision for a wilder future. Together we can restore huge peatlands, which store carbon and become a home for threatened birds like curlews and golden plovers. We will create new wetlands, which reduce the risk of towns and villages flooding and are also great for dragonflies and water voles. 
Nature has given us so much, it's now our turn to give back. 
Find out more about our work to put nature into recovery