The UK's biggest nature challenge
30 Days Wild is The Wildlife Trusts' annual nature challenge where we ask the nation to do one 'wild' thing a day every day throughout June.
Sign up is currently closed, but will re open again in May 2022! 
30 Days Wild for 2021 may be over, but hopefully your wild month has inspired you to get outdoors as much as you can throughout the year. There's so much to see all year round, and a little bit of nature every day really does make you feel happier and healthier. If you'd still like access to all our 30 Days Wild materials, you can download them.
In 2021, more than half a million people got involved, from families and couples, to teachers, care homes and workplaces. Everyone's invited!
Why should you take part?
30 Days Wild for families

How wild is your family? 30 Days Wild is the ideal starter for the tamest of tribes, or an excuse for the already-wild to push it a step further. 

Contact with nature is super-healthy. It can lower your blood pressure, improve your mental well-being, inspire positivity, and boost youngsters' performance at school. Even the very youngest can benefit from time spent outdoors.

Having kids around is a wonderful excuse to have another go at things you enjoyed when you were a child yourself – pond dipping, bug-hunting, rockpooling, paddling or tree climbing – without feeling daft. Remember the thrill of finding a new, strange creature and the way you could spend what seemed like forever just watching ants or woodlice?

Catch a snail and let it crawl over everybody. Go for a walk in the dark and see if you can see (and hear) bats. Sleep outdoors. Get really dirty and don't worry about it. You're not only investing in the family's health, you're building a golden store of memories. Children with a positive feeling for nature grow up to be adults who care for the environment and are likely to bring up their own children to do the same.

Keep a diary of what you do – paper or online, it doesn't matter. Add photos, a pressed leaf or flower, a drawing or that odd tuft of animal hair you found on the wire!
30 Days Wild for grownups

Many of us have found solace in wildlife during lockdown, experiencing for ourselves the profound effect contact with wildlife can have on our mental and physical well-being. Let's not forget it as we move back towards normality.

30 Days Wild is a great way to make sure nature becomes part of your daily life. Sometimes, when we're busy, it's easy to put it on the shelf. 'I haven't got time today' becomes 'I haven't got time this week', and before you know it, you've lost the habit. Commit yourself to going a little bit wild every day in June – you don't have to spend hours on it. Just a small act of random wildness between putting the washing on and joining the Zoom meeting is enough.

You could stop for a few minutes in the supermarket car park and watch the bees in the flowering shrubs, or take an evening walk through town to see if there are any swifts screaming round the church spire.  Develop the habit of noticing wildness wherever you are.

If you've got a bit more time, try something new. Visit a reserve you've never been to before, take that walk along the river you've been meaning to try, go foraging and make a weed soup or a wild salad, or download a bee guide and see how many different kinds you can spot in the local park or in your garden.

Grab back a bit of your childhood – sit on the ground in the long grass and take a close look at the insects. OK, so it might take us a bit longer to get back up than when we were six, but does it matter? Forget the cares and responsibilities for a while and allow yourself to get absorbed in the miniature world amongst the grass stems. 

So let's do it – let's go wild! Do something you haven't done since you were in short socks! Blow on a grass blade and make it squeal, make a daisy chain and put it on your head, nibble a sorrel leaf or stamp in a puddle! Forget dignity, forget being a grown up, go a bit feral and restore yourself. Before you know it, 30 days just won't be enough.
30 Days Wild to 365 Days Wild!
Your daily Random Acts of Wildness can be anything you like - litter-picking, bird watching, puddle-splashing, you name it! They can take a few seconds, a few minutes, or if you lose yourself completely, a few hours! We've got quite a few ideas below - but you can make up your own, too!
Don't forget to share your wild activities with us using #365DaysWild
Dr Cath's weed soup recipe

Wild salad or weed soup? You can make a tasty meal with what you'd usually put on the compost heap. Try ground elder, young nettles, chickweed, goosegrass and sorrel. All of these are common and easily recognised, but do make sure you can identify them before you pick! Download our weed soup and dandelion tea recipe below.

Please be careful with identification, check online or by using a field guide. 

Ingredients
A good bunch of mixed weeds – try stinging nettle tops, ground elder (young leaves), fat hen, goose grass, sorrel, garlic mustard, yarrow (young soft leaves), dandelion.
4-6 spring onions, sliced finely
Cup of frozen peas
Salt & pepper

Method
• Wash the weeds well and remove any tough stalks & caterpillars.
• Sweat the spring onions in a little butter or oil.
• Add the weeds and water to cover well.
• Bring to the boil, then turn the heat down and simmer until the weeds have wilted and softened – about twenty minutes should do it.
• Add the frozen peas, a little salt and pepper, and cook for a further 5-10 minutes. The peas serve as a thickener – you could use potato instead if you have no peas, but add it, diced, when you first put the weeds in. Peas make for a prettier soup.
• Liquidise/blend the soup.
• Adjust thickness if necessary by adding more boiling water. Check seasoning.
• Serve hot.
Make a pitfall trap

To find out what sort of bugs and beetles are wandering around after dark, make a simple pitfall trap.

Dig a hole in the ground – bare earth or lawn – and bury a large yoghurt pot so that its rim is level with the soil surface. Pack soil around the edge of the pot. Drop in some bait – a bit of meat or cheese, and a couple of salad leaves will do.

Place four stones around the pot and a slate or tile on top of them to keep the rain out.

Leave the trap overnight and dig it up in the morning to see what you've caught!

Always handle the minibeasts gently, and return them home once you've had a good look at them.
Moss graffiti

A fantastic eco-friendly way to release your inner Banksy – you can probably find everything you need in the kitchen...

Gather several handfuls of moss. You need the cushiony sort that grows on walls and stones.

Wash the moss in cold water to get as much dirt off as possible.

Break it up into small pieces and put it in the blender or food processor. Add some yoghurt, a little water and half a teaspoon of sugar. The quantity of yoghurt depends on how much moss you have, so start with a little and add more as necessary.

Blend until it's like milkshake. 

Choose a shady wall and using a paintbrush, paint the slop on the wall in whatever pattern or 'tag' you want. Sit back and wait for your graffiti to grow.
Leaf-rubbing art

Make a pattern of leaves with the undersides up, lay a sheet of paper over it and rub different wax crayons over it to make a picture. 
Moonlight walk

The moon is full on 24th June, so choose a clear night around then for a moonlight walk. Try not to use a torch (but take one with you just in case!), wear something high-viz, and experience the dark side!
Mushroom spore print

Any open-cap mushroom will make a good print. Place the mushroom on a piece of paper and cover it with an overturned glass or cup. Leave it till tomorrow and hey presto, the spores will have made a pattern on the paper. If you want to keep it, spray it lightly with hair spray.
Bird Box Boots

Upcycle an old pair of walking boots or similar to make a home for the birds! Cut a disc of wood about an inch thick, drill a hole in the middle (28mm for blue tits, 32mm for great tits or sparrows) and wedge it in the top of the boot. Tie the laces up to hold it in and fasten your boot birdbox to a tree. A pair of boots would make cute 'semis' for sparrows!
Hear the dawn chorus

Haul yourself out of bed before dawn – we promise it'll be worth it once you're out there! Even if you go no further than the garden, hearing the first singer start up and the massed choir joining in is a truly uplifting experience. You don't need to know who they all are – just enjoy it.
Make a beetle bucket

Make a special habitat for those important garden predators the ground beetles. Download our activity sheet:
Charm worms

Worms can be attracted out of the soil by drumming or vibrating, possibly because they think it's raining. Try a variety of percussion and see which works best.

The World Worm-Charming Championships are held at Willaston County Primary School in Cheshire, in June. Each participant gets a three-metre square plot of land from which to charm as many worms as possible in 30 minutes. The traditional and still most popular technique is to stick a garden fork in the ground, and hit it with a stick.

The consequent vibrations bring worms to the surface. No digging is allowed. Other methods include playing music, rolling a metal bar along the ground, and even sticking a chainsaw in the ground. Competitive worm-charmer Helen Forster tap dances on a plank to the theme from Star Wars.! 
Wild treasure hunt

Make a list of treasures suitable for where you're going hunting and the age of the hunters – it could be as simple as 'Something blue' or more demanding, like 'a nibbled nut'. Give everybody a list and a bag and send them off!
Wildflower walk

How many different wildflowers can you find? Anywhere will do – they're everywhere. It's just that they call them weeds in some places! Download our June wildflowers spotter sheet:
Look out for cockchafers!

These big buzzy beetles are really spectacular. They're also known as maybugs, but they're still around in June. They're attracted by light, so leave the curtains open after dark and then have a look beneath the windows. Cockchafers have lovely fan-shaped antennae. Count the 'leaves' on them – males have seven each side but females only six. 

Common cockchafer (c) Nick Upton/2020VISION
Lure a drumming woodpecker

Greater and lesser spotted woodpeckers are still guarding their territories by drumming. See if you can lure one closer by mimicking it. Choose a dead branch or use a fence post, and copy the woodpecker's rhythm by tapping on it with a stick. The woodpecker might come to have a look at its noisy rival.
Visit a reserve you've never been to before

We've got over 40 to choose from, so there's sure to be one not too far from home!
Screaming swifts

Take an evening walk around town and see 'screaming parties' of swifts racing round the buildings. Swifts nest under the roofs of high buildings – their only break from a life spent on the wing!

Swift (c) Stephen Barlow
Urban wildlife

Out in town shopping or browsing? Don't forget that wildlife is everywhere. Take a bit of time to notice what lives in our most built up areas – plants pushing up through the paving, sparrows chirping on rooftops, bees buzzing round planters and hanging baskets, and, if you're really lucky, a peregrine falcon. Over a quarter of our breeding peregrines are now using cathedrals, hospitals, pylons and office blocks as nesting sites, taking advantage of the urban pigeon population to feed their young.
Make a hedgehog highway

Hedgehogs need to be able to roam far and wide in search of food, mates and nesting sites - the average hedgehog roams 2km a night! Get together with your neighbours to make a hole in your fence or dig a channel beneath garden boundaries to connect your gardens.

 

Kathryn Jones / David Whitehead

You will need:

A fence panel, Ruler, Pencil. Coping saw, Sandpaper

Your neighbours' cooperation! Keep an eye out for neighbours doing work on their gardens, or using fencing contractors - this is the perfect opportunity to get a hedgehog hole put in!

Instructions

Step 1: If your neighbour is happy, remove a fence panel.

Step 2: Measure and mark a 13cm x 13cm hole at the bottom of the panel.

Step 3: Using the coping saw, cut out the marked hole.

Step 4 : If there are very rough edges, use sandpaper to smooth them down

Step 5: Put your fence panel back. Your hedgehog highway is now open for business!

Remember

To record your hedgehog hole, go to the national network at Hedgehog Street: A joint campaign run by the People's Trust for Endangered Species and the British Hedgehog Preservation Society (BHPS), Hedgehog Street aims to encourage people to link their gardens and make 'Hedgehog Highways' that are rich in insects and free from hazards.
How to make elderflower cordial

The elderflowers are just starting to come out and will be around the whole of June. It's one of our commonest hedgerow shrubs, so it can spare a few flower heads for you to make this delicious summertime drink.

The flowers and berries are the only edible part of the plant. They are mildly toxic and have an unpleasant taste when raw. Cooking destroys the toxic chemicals.

The fragrant flowers are most famous for making elderflower champagne and cordial – perfect summer drinks. Cordial can also be used in baking! There are lots of recipes that you can adapt to your taste. Here's a basic one, but don't worry about being too precise with quantities.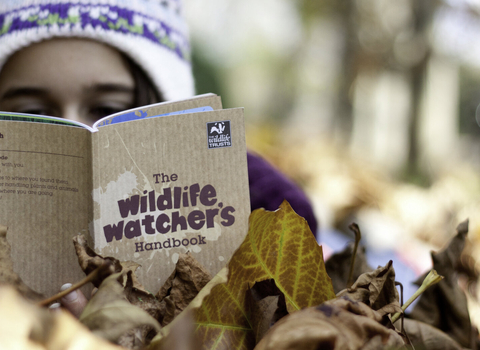 Join your community
Did you have a great time connecting with wildlife in June? Why not join us as a member! 
Joining as a supporter is a great way to take care of your local wildlife, and we will give you tonnes of ideas for staying wild all year. 
Join here