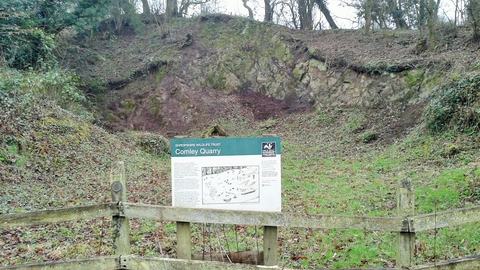 A holy place for geologists, the location of the discovery of Britain's earliest trilobites.
Know before you go
Entry fee
Free
Parking information
Parking is awkward but possible on the roadside. Further car park details below.
Grazing animals
None
Walking trails
Take a footpath up Caer Caradoc and include Comley Quarry in a loop of your walk.  
Access
Although parking is possible on the roadside to view the reserve, the nearest car park is Church Stretton train station, SY6 6PG, which is free to use. 
Accessibility: Amber/Green
The quarry is open and accessible, but is prone to bramble and scrub when volunteer work parties have been unable to visit. However, this tiny site is flat with a hard quarry floor, it can be viewed from the road.
When to visit
Opening times
Open at all times
Best time to visit
April to July
About the reserve
Small but awesome, Comley Quarry has little in the way of wildlife but is a holy place for geologists. Britain's earliest trilobites were discovered here in the 1880's – an astounding glimpse into the past some 550 million years ago.
Comley is known internationally as a reference section against which Cambrian rocks of similar age across the world are compared. Fossil hunting is not permitted here, but look into this tiny amphitheatre and reflect on the ancientness of the world and all the vanished creatures that once lived in it.  
The most important ecological aspect of the site is the occurrence of Dormice (Muscardinus avellanarius), whose presence has been determined by food signs.
Directions to Comley Quarry
Approach Comley from the A49, turning off either at Leebotwood or north of Church Stretton towards Cardington. Parking is awkward but possible.
The nearest car park is Church Stretton train station, SY6 6PG, which is free to use.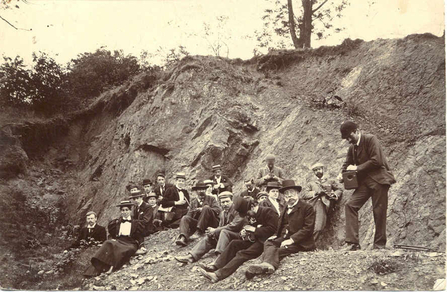 Charles Lapworth and geology students on a field trip to Comley Quarry in 1896.
Become a member and support our work
The vital work we do for nature depends on the support of people who care about the future of Shropshire's wildlife and wild places.