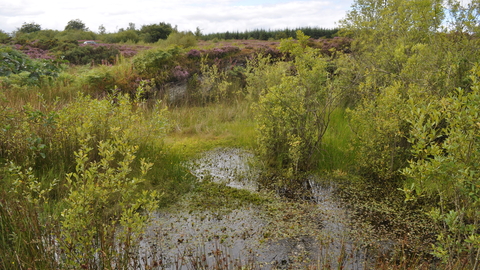 An ancient heathland, good for late-summer foraging
Know before you go
Entry fee
No
Grazing animals
Cattle
Access
Contact the Trust for access information.
When to visit
Opening times
Open at all times
Best time to visit
All year round
About the reserve
This is heathland, high up in the Clun Forest above Bishop's Castle. It is much loved by local people, who come in late summer to pick whinberries and breathe in the scent of heather, and all year round for a bit of a blow and some grand views.
The Lower Shortditch is an ancient monument predating the Kerry ridgeway's drovers' route and is thought to have acted as a checkpoint regulating the flow of people and livestock across the Welsh border.
Heathland once covered the tops of the Clun Forest hills, now only fragments remain. Come here in winter and you might catch sight of over-wintering snipe, here to escape the harsher weather on the continent; in April to hear the cuckoo, which lay its eggs in meadow pipits' nests; in summer for the starry flowers of bog asphodel. Botanists have scoured the common and found 123 species of plants, including marsh violet, heath milkwort, common cottongrass, deer grass, lots of sedges and marsh speedwell, with its whitish flowers, unlike the vivid blues of many of its relations.
Directions: Approximately 7 miles west of Bishop's Castle. Take the Kerry Ridgeway road, go through Bishop's Moat and out on the Pant Glas road. Turn left at the Dog and Duck down to Lower Edenhope. Bear right at Two Crosses, past the felled conifer plantation. Carry on for approximately 1½ miles and you will see it on your right.