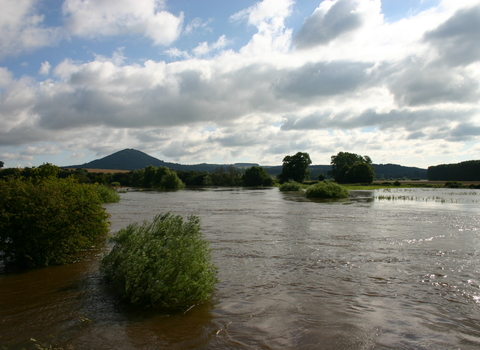 Shropshire Rivers Hub
Rivers, streams and other fresh water stores are one of our most important resources, critical to sustaining life on our beautiful Blue Planet. Natures Recovery is dependant on the restoration of our rivers and the catchments that feed them, supporting and caring for this essential River Recovery Network is fundamental to the work of the Rivers Team of Shropshire Wildlife Trust.
Shropshire is criss-crossed with ribbons of beautiful rivers, brooks and streams, dotted with ponds, and boasts an incredible and unique wetland network in the north of the county, made up of meres and lowland peat bogs, with the Shropshire Union Canal wending through this landscape.
Shropshire is home to the longest river in the UK, the massive River Seven (Afon Hafren in Welsh), which rises in Plynlimon across the border in the Welsh Cambrian Mountains, weaves through the Shropshire landscape, farmland, towns, villages, then on through Worcestershire and Gloucestershire, before opening into the Severn Estuary, which becomes the Bristol Channel, and finally the Atlantic Ocean. This river, its tributaries and the multitude of ponds, watercourses and wetlands across the county, offer a wealth of enjoyment such as canoeing, fishing, swimming, exploring, walking, relaxing, riding, photography, and watching the riparian wildlife such as fish, kingfishers, otters, dragonflies, demoiselles, sand martins and dippers. Read on to find out more...
Shropshire Wildlife Trust's vision is to see our wonderful wild water, in both urban and rural areas, thrive and flourish bringing lots of different benefits to people and wildlife. Through careful management of our precious resources we want to be a part of providing:
A clean and plentiful water supply
Protection against flood and drought
A place to play and enjoy
Waterways that can adapt to the pressures that the future will bring
Good quality habitats for wildlife
What are the pressures on our rivers and catchments?
Certain kinds of agricultural practice, types of industry and increased domestic demand put a lot of strain on our rivers, streams, pools and canals. Faulty or badly designed septic tanks, sewerage misconnections and pollution from a wide range of other sources make the challenges of supplying clean water for humans and nature even greater.
Climate change is a real and present danger for all of us. Increased frequency and intensity of storms, milder, wetter winters and dryer hotter summers are all predicted for us here in the UK. Flooding has major impacts on our economy, food production, public health, personal safety, and wildlife. The extent of these impacts appear to be increasing.
Government catchment planning webpage 
Taking a catchment wide approach.
A catchment is a term used to describe an area defined naturally by where the surface water collects and flows through the landscape. Rain falls everywhere and with the aid of gravity, when it can, it becomes a trickle, then a stream and joining with other flows becomes a river. Most of Shropshire's rain flows to join the Severn, UK's longest river at 220 miles from source to sea. For this reason it is important that we all work together so we can have a coordinated approach to helping to protect and restore our water environments.
All of our projects are designed to take a Catchment Based Approach. You can find more information about the Catchment Based Approach [CABA] at the following downloads and links:
Visit the Catchment Based Approach website
Shropshire Wildlife Trust takes an active interest in the CaBA partnerships that work with the Environment Agency and Natural Resources Wales to agree and deliver strategic priorities for the catchment and support the development of  an appropriate Severn River Basin management plan. Shropshire benefits from the work of 5 catchment partnerships, follow the links below to find out more:
Shropshire Middle Severn  Worcestershire Middle Severn
What are we doing to protect our river and catchment network?
Our Rivers Team are working on a wide variety of waterway related projects within Shropshire. These projects include managing and improving the health of our streams, rivers, ponds and canals, to surveying aquatic species, running events and working with different partners to address flooding issues across the county.
We work hard to access funding sources to enable key projects and habitat improvement works on all kinds of water bodies, from full landscape/catchment-scale to more localised target sites, helping mitigate climate change, protect everyone's future and create a River Recovery Network in Shropshire. 
Integrated approaches
Integrated catchment approaches are a way of looking at the bigger picture beyond the banks of the waterways.
It is about realising that what goes on in our fields, roads, parks and residential areas is fundamentally linked to our Wild Water.
Taking an integrated approach is essential and most cost effective as it aims to bring together traditional management methods with natural engineering solutions.
The Catchment Based Approach (CaBA) is a community-led approach that engages people and groups from across society to help improve our precious water environments. CaBA Partnerships are now actively working in 100+ catchments across England and Wales.
They have assembled guidance and information about planning and running citizen science and volunteer monitoring programmes. The resource pack includes a guide to water quality monitoring equipment used by CaBA partnerships, mobile apps and maps for data capture and a number of case studies from catchment partnerships using monitoring to inform and assess their catchment plans.
Learn more about the CaBA approach on their website.
Find out more
Follow the links below, follow us on Twitter or find us on Facebook to discover more about what Shropshire Wildlife Trust are doing to help manage and protect our wild water and find out how you can get involved. Follow the SWT Rivers team on Facebook, Twitter and Instagram.
Spotted a pollution incident? Call the pollution hotline on: 0800 807060