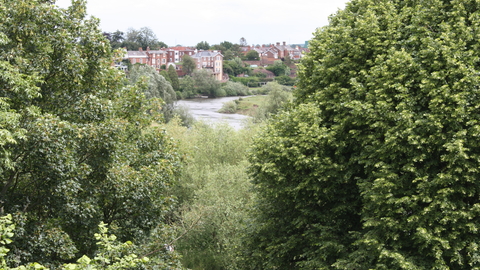 Darwin's Childhood Garden
A fragment of the garden in which Charles Darwin spent much of his childhood.
Know before you go
Entry fee
Free
Parking information
Free parking available on nearby roads around The Mount. Or use the Pay and Display car park in Frankwell and walk up the road to The Mount and down to the riverside path.
Grazing animals
None
Access
Access is by arrangement only. We open the garden several times a year for guided walks.
Accessibility: Red
The reserve can be viewed from the riverside path, which at times is muddy, and can be flooded, there is also a kissing gate on the path near the reserve entrance. Once in the reserve, there are 2 sets of steep steps plus a narrow track (the thinking path) which runs along the top of the bank.
When to visit
Opening times
By arrangement only, but the site can be viewed from the riverside walk.
Best time to visit
All year
About the reserve
"I often think of the garden at home as a Paradise: on a fine summer's evening, when the birds are singing, how I should like to appear like a Ghost amongst you," wrote Charles to his sister in 1833, while aboard The Beagle.
This fragment of the Darwin family garden was bought by Shropshire Wildlife Trust in 2013. While much of the formerly extensive grounds attached to The Mount, his birthplace and childhood home, have disappeared under housing, other parts survived in private gardens.
No other part of Darwin's childhood home is accessible to the public, so when we were offered the chance to buy this slip of woodland next to the river, we were thrilled at the opportunity to open up a cherished corner of his world.
Through the wood, alongside an ice house once used by the Darwins, runs a path with views down to the River Severn. It was here 200 years ago, that the young Darwin was sent every day before breakfast to walk the path at the bottom of the garden. It was known as the Thinking Path and provided a regular time for thought and reflection. The habit became ingrained in Darwin's daily routine and when he and his wife Emma bought Down House in Kent, they made their own Sandwalk through the grounds, carrying on the tradition of morning walks with their children.
This land was purchased with donations from our members and supporters and  significant grants from the Jean Jackson Trust, Shropshire Horticultural Society, Shropshire Masonic Charitable Association and the Daniell Charitable Trust.
Become a member and support our work
The vital work we do for nature depends on the support of people who care about the future of Shropshire's wildlife and wild places.