River friendly Shropshire
In a world of nature and climate crisis it can be difficult to work out what to do first.
The county of Shropshire has over 3,846 miles of water course from the tiniest of brooks to the mighty Magnificent Severn. This arterial network supplies our drinking water and supports a diverse range of wildlife. However, our water environments are degrading fast with less than a fifth of England's rivers considered healthy. Misconnected drains, plastics, chemical pollution, climate change and surface runoff from roads and farms are just some of the challenges in which make maintaining river health difficult.
However, by frequently monitoring and learning about the signs of pollution in our waterways, awareness of challenges facing our rivers can be recognised as well as allow necessary action to take place so they can be improved. Monitoring and responding to harmful pollution or practices is a critical part of helping create a Nature Recovery Network, whilst we are all trying hard to heal the wounds of environmental decline we need to be vigilant to prevent new and further damage.
Please follow the Government's latest advice and rules with regard to Coronavirus. You can undertake some of the activities listed below from your home, e.g. online learning, downloading the app, but other activities such as group litter picks will be on hold for now.
You can undertake this FREE online training course from West Mercia Search & Rescue. Hundreds of people drown every year, and most of them had NO intention of going in the water. This free course teaches the risks, how to help someone in water, and the basics of saving a life: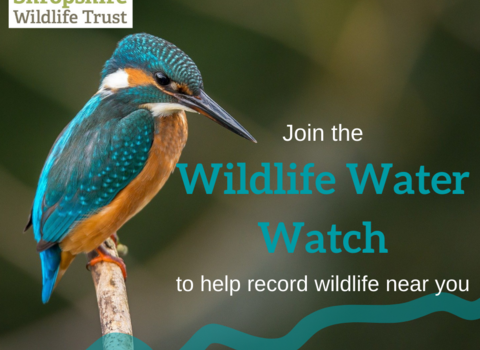 The Wildlife Water Watch
Take part in the Wildlife Water Watch and help us record wildlife across our top 50 watercourses in Shropshire
To take part click on the below link
Landowners
What can you do to improve the health of our waterways? As well as the above dropdown information we run several projects with external funding that allows us to support landowners that either have a watercourses running through the land or to identify and improve potential water pollution sources. Find out more here.